Teaching a child to read can feel like a daunting task, especially when your child is dyslexic.  There are so many programs available to us today, each with their own theories.  We are flooded with so many choices that will make our heads swim.   I have tried a couple different approaches to teaching my son how to read before he was diagnosed.  I would like to share with you our experiences and what I've learned along the way.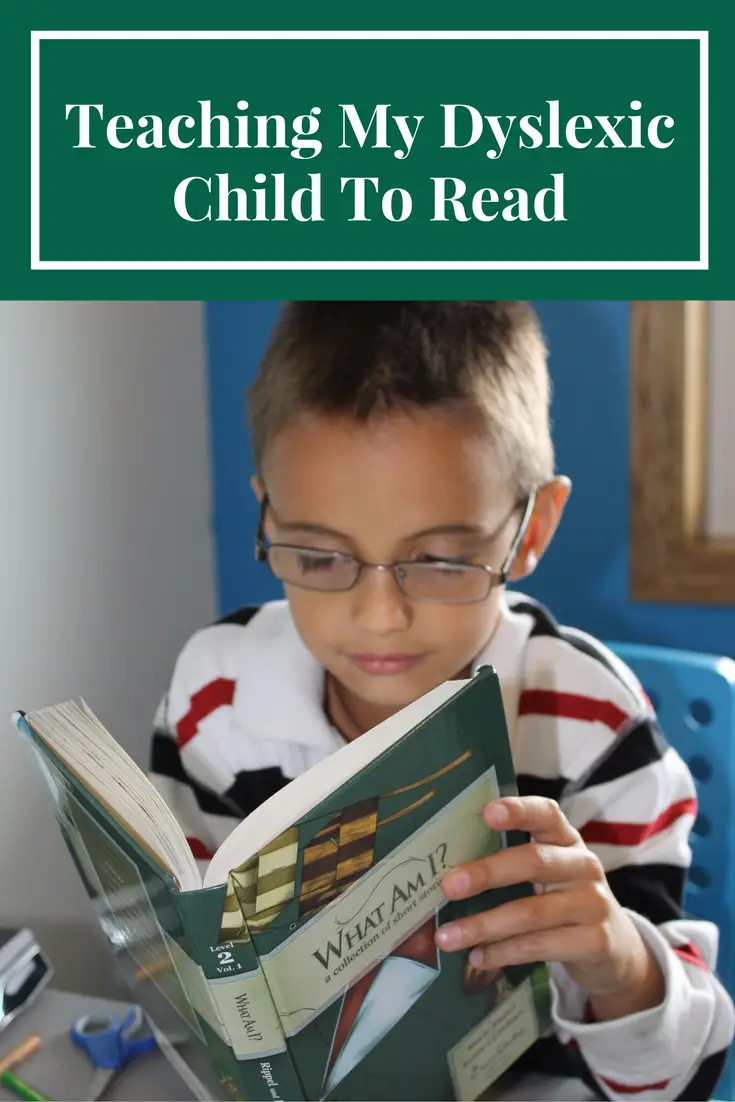 What Didn't Work
In kindergarten (public school) he learned many sight words.  He also learned what different letter sounds made, but I don't believe they did a complete phonics based study where all the sounds of all the letters were taught.  I really believe this was a disservice to him.  He didn't learn how to decode words or break down syllables well.
Our first year of homeschooling (first grade) we went with an all-in-one curriculum package.  I really felt overwhelmed by my curriculum choices and wanted an easy open the book and go program that covered everything.  There were some courses within this program that I liked, however reading was not one of them.  Not because it was a horrible program, it just wasn't what Grasshopper needed to learn how to read.
The program used many worksheets filled with exercises followed by reading a short story from their reader books.  Grasshopper wasn't interested in the stories, and while it was a phonics-based curriculum, it still didn't really cover how to decode words.  There were many meltdowns brought on by frustrations last year.  The one mistake I made was not switching programs in the middle of the year.  It simply wasn't a great fit for a hands-on learner who also happens to be dyslexic (which I didn't know at the time).
Using an Orton-Gillingham Curriculum For Dyslexic Child
I believe the best choice for teaching reading and spelling for any child, but especially a dyslexic child is the Orton-Gillingham Approach.  This approach is laid out in the info-gram below.
This year we are using All About Reading.  The first thing that drew me to this program is that it is multi-sensory.  This works perfectly for Grasshopper because he needs to keep his body moving when he's learning.  When you use a multi-sensory program your child is learning through seeing, hearing, and touching.  This means your child is being taught through all three pathways to the brain (visual, auditory, and kinesthetic) making the lessons more effective.  Multi-sensory learning also helps with retention, making it easier for your child to succeed.
Why we're loving All About Reading
There are so many things I am loving about this program.  The first thing I noticed is that we are not having meltdowns!  Grasshopper's frustration levels with reading have rapidly diminished.  He has even enjoyed doing the projects which surprised me.  He's engaging in the stories.  Best of all, I see his reading skills carry over outside of the reading program.  He is retaining what he has been taught!
Ok, so let's get into the details.  How does this program work?  We are currently in Level 2, so my review will be based on this level although each level just builds on the next one.  It comes with a teacher's manual, activity book, and two hardcover readers.  You also need to purchase the interactive kit, however, this is a one time purchase.  Once you purchase the interactive kit you will use it for all the levels for both their reading and spelling program.
All About Reading uses phonics and teaches all the sounds a letter makes from the beginning.  It even comes with a free app you can use to listen to the sounds to make sure you are teaching them correctly.  After your students have mastered the phonics, you will go into learning how to decode words and read them.  They are taught how to break apart syllables, and how to know if a vowel should say it's long or short sound.  Because this program teaches how to decode the words, I don't just say "sound it out".  Now we have a process to decode a word and figure out what it says by knowing if vowels are long or short, and when certain letters say which sounds.  I have to admit even I'm learning a thing or two!
Teacher's Manual
The teacher's manual is laid out so anyone can open the book and teach the lesson.  It tells you exactly what to say to teach the concepts.  It's also laid out in a way to go at your student's pace.  There is no set stopping point for each day.  Some lessons you might get done in a day or two while others might take a week.  You can really go at your student's pace.  I encourage you to learn to recognize when your child is starting to get tired and end your reading lesson there.  When your child starts getting tired it's really easy for them to feel frustrated and start giving up.  You want to stop before your child reaches this point.  If you continue on with your reading lessons after your child is mentally fatigued you will only discourage reading in the future.
Activities
The Activity book is filled with activities to reinforce what is taught in the lessons.  The pictures are all black and white, making it less distracting.  Some of the activities say your child can color the pictures, so far we haven't done this.  The activities are not too long and are very purposeful.  They're not just an activity for the sake of doing an activity like other programs.  These activities truly reinforce what you are teaching the student.  My son hated doing activities in other programs, but I was pleasantly surprised that he has really enjoyed the activities used in All About Reading.  Many of the activities he'll actually do more than once!  However, the teacher's manual does state that if you're working with an older child who doesn't need the extra practice or who doesn't want to do "kid" activities you can skip them.
There are also fluency exercises incorporated into each lesson.  I love this!  Many of the words in the fluency portion of the lesson are ones they've seen throughout the lesson.  This gives the students a chance to work on reading these words smoothly until it comes naturally to them.  This, of course, leads to greater reading comprehension!
All About Reading Readers
Next, let's talk about the readers.   Your child doesn't read from the readers book every day.  Every few lessons, there will be a lesson where your child reads a short story from the readers.  Before your child dives into the story, however, you're taken through a warm-up routine.  First, if there are any new vocabulary words your children might be unfamiliar with they are explained. There is a small warm-up activity.  Plus, there is a warm-up reading sheet much like the fluency practice.  These warm-up readings make sure your child knows how to decode every word they will come across in the story.
The reason I love the warm-ups so much is that this means your child has already decoded these words.  I don't make sure he's reading them with perfect fluency before diving into the book.  But, because he's seen these words before going to the story he is less likely to become frustrated while reading the story.  Because he's dyslexic, reading can be a chore for him.  It certainly was in the reading program we used previously.  Now, because of the warm-up, he is engaging in the stories, enjoying them and comprehending what's happening in the story.
How All About Reading Has Changed Our Homeschool
It has been such a joy for me to watch Grasshopper's reading skills blossom using All About Reading.  I only wish I would have switched to this program last year when the other one clearly wasn't working.  It has made our homeschool days so much more enjoyable!  He is no longer feeling stupid because of being dyslexic.  As a mom, I can't express enough how much this has helped my son.
All About Learning Press also have a great spelling program.
A couple last thoughts.  I believe this program is great for just about every child, not just those who are dyslexic.  If you're currently using another program but it just isn't working or your child is easily frustrated, please do not make the mistake I made by waiting until next year to make the switch.  Save yourself and your child from the frustration and look into what might be a better fit for him.
If you're interested in making the switch but unsure which level is appropriate, check out their free placement evaluations.