When I first set out to homeschool Grasshopper I had no idea some of his learning struggles were a result of dyslexia. There have definitely been periods of trial and error in finding the most effective ways to teach him. For us, adaptations have been key to his learning success.
When your child is struggling with a learning disability, they can easily become overwhelmed and frustrated. The goal with accommodations is to help our child learn without feeling these things. The following are adaptations we've implemented in our homeschool to help him reach his potential in spite of his dyslexia.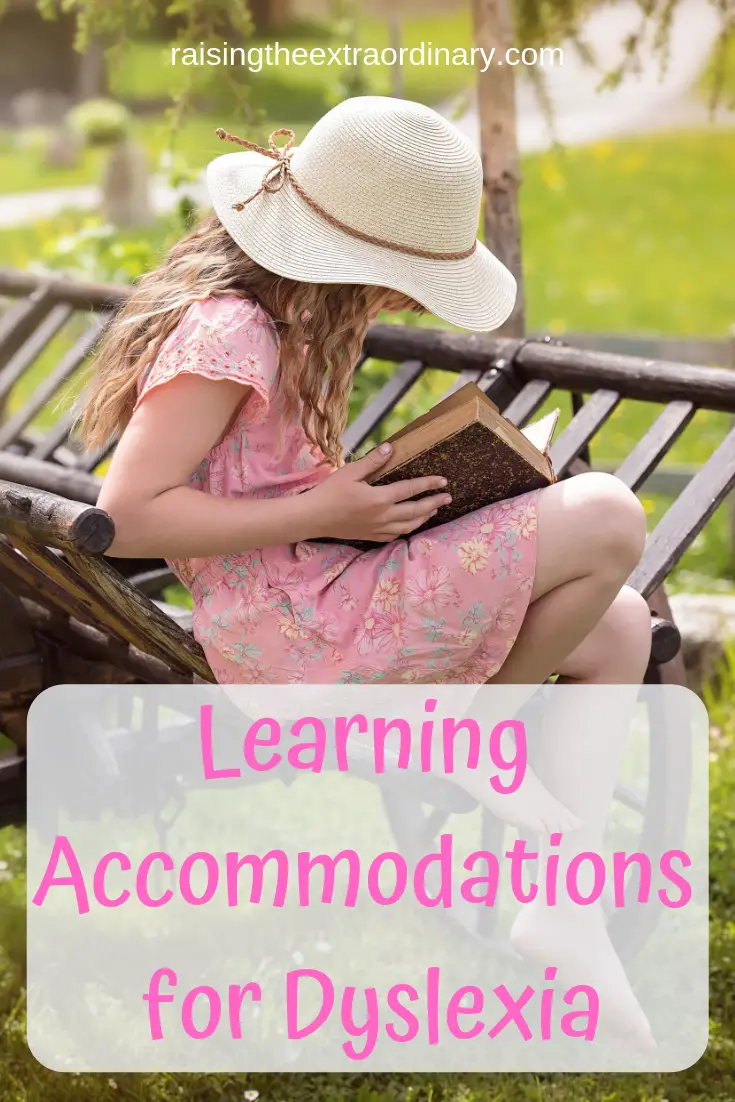 This post contains affiliate links for your convenience whereby I earn a small commission if you choose to purchase through my link at no additional cost to you. For more information see my marketing page.
Orton Gillingham Curriculum for Dyslexia
The first thing I found that we needed to change was the curriculum we were using. Particularly the curriculum for reading and spelling. I learned quickly that using an Orton Gillingham curriculum was key for children with dyslexia. Other methods we had tried were doing nothing but causing growing frustrations for both Grasshopper and myself.
We found great success with using both the reading and spelling programs from All About Learning. We also enjoyed using Nessy to supplement the curriculum and help with retention.
I Write Answers For Him to Copy
When we are working on coursework for subjects other than reading and spelling I don't want to give him the added stress of both figuring out the answers and spelling the words out.
To accommodate for this and keep frustration levels at bay, I will ask him to tell me the answer to the question. Then, I will write his answer out on a whiteboard and allow him to copy the answer to his worksheets.
Doing this allows Grasshopper to stay on topic and not feel overwhelmed with spelling during every subject.
Let Him Dictate Answers
Along with dyslexia, Grasshopper also seems to have dysgraphia which makes writing difficult for him. On days where the assigned work requires him to do a lot of writing, we take turns. He will write down the first answer (using the accommodation mentioned above) and I will let him dictate the answer to me on the next question.
When using this method, rather than writing the answer on the whiteboard for him to copy, I write his answer out on the worksheet directly. He still answered the question, I simply did the writing so he doesn't feel overwhelmed and frustrated. Sometimes seeing a lot of blank lines for him to fill in will overwhelm him to the point of shutting down. Allowing him to dictate answers to me lessons the overwhelming feeling.
As he grows older we use this accommodation less and less as his endurance and confidence grow.
Read Aloud Time
More often than not our child's vocabulary and comprehension levels are much higher than their reading levels when they hear the books. We have read aloud time each day (we call it morning time). This is when I read to him. I pick books I know are beyond his reading level but are of high interest to him.
I choose to read aloud every day for a couple of reasons. First, it's a great time to spend with him. Second, allowing him to see me read is an example to him that reading can be enjoyable.
So with those things in mind, our literature time is spent with me reading to him. He gets exposure to literature rich books he enjoys and can experience books that he otherwise wouldn't if he were forced to read everything on his own.
Choosing Appropriate Books For Your Child to Read
It's important to let our children have successes in their learning. To do this we need to make sure we are not setting them up to fail. It's important that our children with dyslexia practice their reading skills on a regular basis. It's like exercise for the brain. Our job here is to make sure we are choosing books (or assigned number of pages) that are not too long.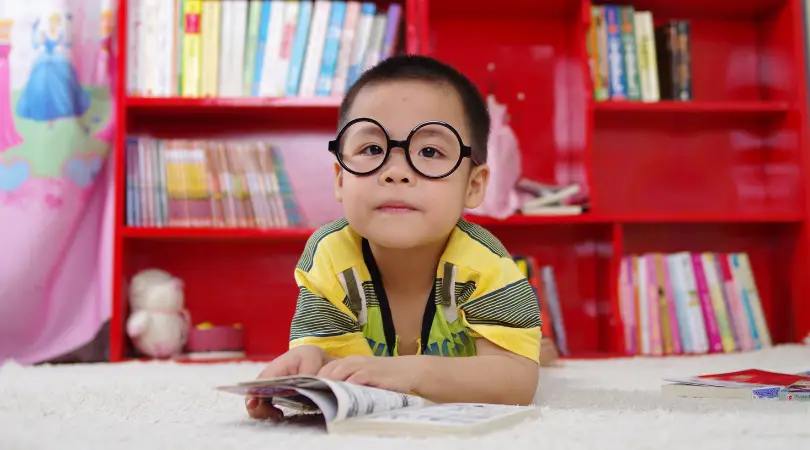 The last thing we want to do is discourage reading by asking too much of them. We need to recognize our child's ability and find books that will challenge them to grow their skills, but not be too difficult or overwhelming that they give up feeling like a failure.
It may take a little time, but you'll learn to notice the length of reading your child can handle at a time. With time and practice, the length will increase, but we need to have realistic expectations and start small.
When it comes to reading level, a trick I have found helpful is to have your child start reading a book to you. If they need help on more than 5 words within the first couple paragraphs the book is beyond their current reading level. It doesn't mean they won't read it someday, but again, the key here is to grow their confidence. Pick books that will not be such a struggle for your child.
AudioBooks
Audiobooks are also a great option. They accomplish many of the same goals read aloud time accomplishes. Grasshopper will listen to audiobooks before bed, in the car, and while playing Legos. We even have one of his textbooks on audiobook this year to allow for more independent learning.
One of the biggest fear parents of children with dyslexia have is that using audiobooks is like cheating. Here are my thoughts on that. While it's still important we have our children read books at their reading level like mentioned above, they are often able to digest material at a much higher level.
Claiming a #dyslexic individual using audiobooks is cheating is like saying it's cheating for a blind person to use braille.
Click To Tweet
Claiming a dyslexic individual using audiobooks is cheating is like saying it's cheating for a blind person to use braille. Both are accommodations. The same information can be obtained through reading it, feeling it (braille), or hearing it. They're still learning the material. Using audiobooks isn't cheating, it's allowing your child to have access to information they would struggle to have access to otherwise.
Many people choose Learning Ally or Audible as great audiobook resources.
The Key to Adaptations for Dyslexia
The key, of course, is to know your child. Observe them, see where they need the most help and tweak your curriculum to provide appropriate accommodations to meet your child with dyslexia.