This is a fascinating book that took extraordinary children's desires, and made them a reality in this beautiful hardback book. It's a well-crafted book that enables these children to star in famous nursery rhymes, pop culture, Disney movies, Chicago landmarks, famous paintings, and more. This book is a treasure simply in its creation, to give each of these wonderful children their chance for fame. And for one who's never visited Chicago, it's a great guide for my first trip!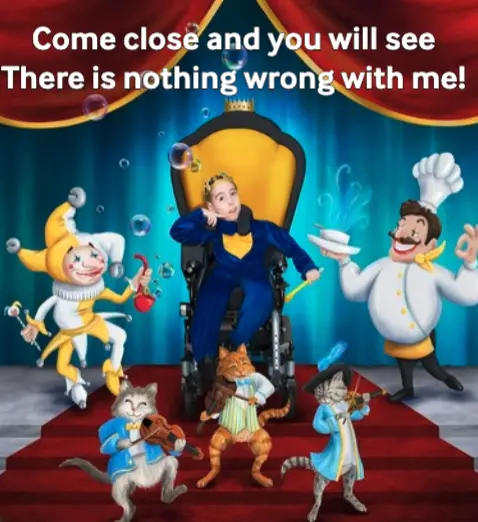 I have received this book for free in exchange for an honest review. My opinions are my own, for complete disclosure see my marketing page.
Below is a guest post by the Creators of Chicago Treasure telling the story of who created this book, and how it came about. It's a sweet story and done with only the best of intentions. In their own words:
Larry Broutman is an award-winning photographer and published author. He is also a longtime board member at The Chicago Lighthouse and donates his author proceeds to this nonprofit. The Chicago Lighthouse is 113-year-old organization which provides resources for community members who are blind and visually impaired. The Lighthouse is founded on the principals of "equality, independence, and dignity for all."
One Lighthouse program that is near and dear to Larry's heart is the Judy and Ray McCaskey Preschool. This program is a free, full-day preschool curriculum offered through the Chicago Public Schools Preschool for All initiative. The preschool offers a blended learning environment where children with and without visual impairments learn in a common setting. Such interaction and play instill sensitivity and respect for diversity from a young age.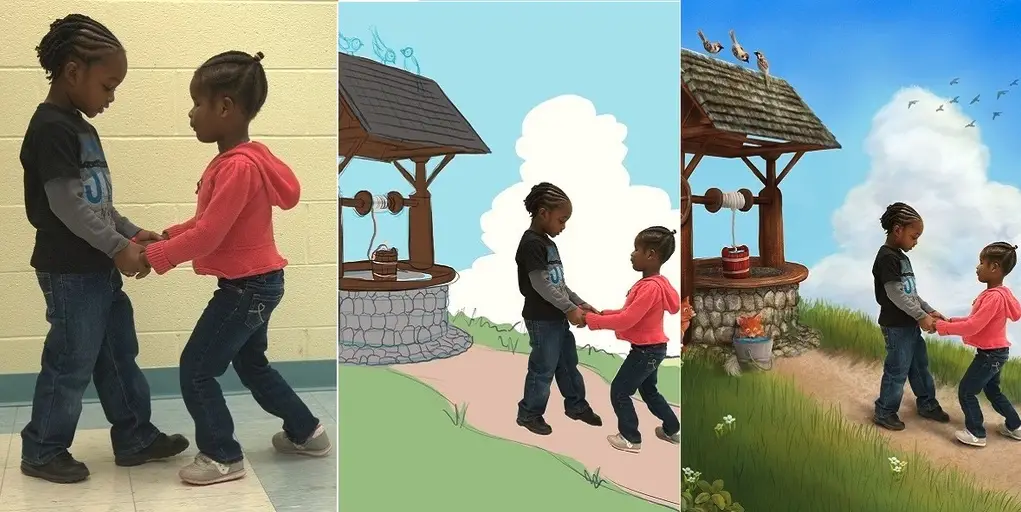 Seeing the expressive preschoolers every time he visited The Chicago Lighthouse gave Larry an idea for a new book. He decided to take photographs of real children and then make them the stars of fairy tale adventures by digitally inserting their pictures into storybook illustrations. He was particularly moved by a budding friendship between a little boy who is sighted and a new preschool student who is blind. The two instantly became companions. According to Larry, the young boy was "so sensitive to her needs that whenever she was standing or walking he held her hand and guided her." Larry envisioned the pair as a perfect Jack and Jill for his children's book idea.
Larry received some advice from a friend that changed not only the book, but his understanding of what it means to be truly inclusive. Larry asked his friend, "What do you think of photographing kids with disabilities? She said, 'Larry, if you do that I want you to remember one thing: Include them but don't distinguish. Yes, it would be a wonderful thing to have kids with disabilities, but don't distinguish them from other kids.' I will never forget those words."
Larry connected with illustrator Rich Green and the journey to creating Chicago Treasure began. While Larry started out photographing children in The Chicago Lighthouse preschool program, he went on to take pictures of many more children in the Chicago area, reaching out to youth of varying ages, ethnicities, cultural backgrounds, and abilities, to paint a true picture of the diversity in the Windy City that makes it such vibrant place to call home.
When asked what being the illustrator of Chicago Treasure has taught him about inclusion, Rich responded, "Growing up, my mom was a school bus driver for children with special needs. She would share stories of the challenges and obstacles these children (and their families) face every single day out there in the world. I learned early on how much each of them wanted to be accepted and included for who they are, regardless of their circumstances. So when it came time to work on Chicago Treasure, we knew we wanted to include children of all abilities. And suddenly after all those years, it just clicked, that we are all the same. We all have hopes and dreams that go beyond any of our capabilities. Every little girl dreams of becoming Cinderella and every boy wishes he could be King; some just happen to use a wheelchair. And to realize that in these illustrations, in a way that anyone viewing them can appreciate and enjoy, to me is where real acceptance and inclusion begins."

While Larry and Rich decided not to draw attention to a child's special needs by listing them in the text, they also did not wish to hide any part of the child's identity. Instead, these elements are honored, celebrated, and incorporated into the illustrations. Still, respecting the wishes of the children always took precedence. A young lady with cancer requested to have hair like the storybook icon she was portraying, and Rich happily obliged. Children were transformed into the fairy tale, folk tale, or nursery rhyme character that they most wanted to be.
Maritza, the young lady who plays Cinderella in Chicago Treasure, is excited to a part of this project and feels it is important because for "Kids who sometimes may look different or may have a disability, it will show that they are like everyone else. They don't have to feel different or like, for example, an outsider. We are all the same."
The mother of the child featured as Young King Cole wrote a poem about her son that is included at the beginning of Chicago Treasure.
Hello!
My name is Anthony.
Come close and you will see
There is nothing wrong with me!
No need to stare, it's just a chair.
It lets me move without a care.
It started with a boo-boo on my brain.
And, yes, the strength is hard to gain.
My arms are tight and my trunk is floppy,
And when I draw it's kinda sloppy.
I have this thing I call my "ears"—
It's only an aid that helps me hear.
I use a device to help me speak,
Because my muscles are kinda weak.
I like to use it to tell you my name,
Or ask you if you'll play a game.
I love to swim, read books, see sports on TV,
Perhaps you'd like to do that with me?
Sometimes I feel left out
When I see kids run and shout,
But there is something I know without a doubt:
Though my head may be hard to lift,
I know each day is a cherished gift.
And though I spend much time in my chair,
What makes life worthwhile is loving care.
— Deanna Alfano
* To learn more about Chicago Treasure and its authors, please visit https://www.everythinggoesmedia.com/product-page/chicago-treasure. Raising the Extraordinary readers may use coupon code CTBLOG15 for a 15% discount on their entire order at Everything Goes Media (no proceeds go to Raising the Extraordinary).