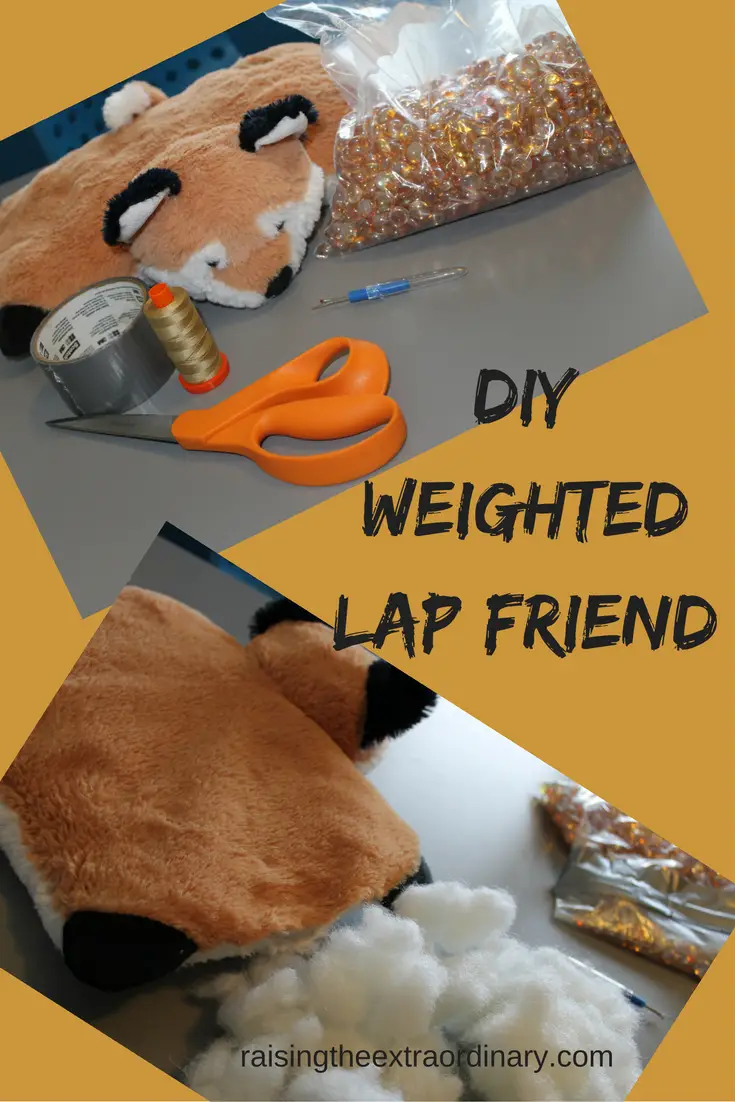 Weighted products are perfect for children with autism who have sensory issues and benefit from sensory input. A weighted lap animal or bag can have a calming effect, reduce anxiety, and they can even improve a child's focus. Focus is probably the biggest hurdle we face in our homeschool because of Grasshopper's ADHD. We've experienced success in improving sensory processing with various weighted techniques with an occupational therapist. It's been a process of trial and error, but it's been a game changer to learn that weighted lap bags provide sensory input that Grasshopper benefits from.
We recently ordered a weighted blanket for kids to help him calm down to fall asleep, but I also wanted something tactile that could sit on his lap during school. Especially during reading and spelling class when his dyslexia means he needs to focus more. So I pulled together some resources from around the house and made one myself!
How to Make Your Own Weighted Lap Friend
First you'll need to round up some supplies. I used a small pillow animal but you could use any type of stuffed animal. I recommend poly pellets for the weights – as they're specifically made for weighted lap pads and lap bags). Finally, you'll need a zip lock bag, duct tape, seam ripper, needle and thread.
The first step is to put the desired amount of weight into a zip lock bag. You should check with an occupational therapist or doctor before using weighted products on your children. A general rule of thumb though, is to use enough weight to equal 10% of their body weight to achieve the desired soothing effect. After putting your weights into a ziplock bag, place the bag over the stuffed animal. Fold the bag over to the appropriate size, remove all the air, and duct tape the bag to the appropriate size. If you're using an animal that sits up, you may need to tape the bag into more of a ball shape.
Next, it's time to perform surgery on the stuffed toy. Use your seam ripper to rip out a seam on one side of the toy. Then start pulling out some stuffing. You probably won't need to remove all of it just just take out about half to start with.
Next, it's time to insert the weights! Slide your zip lock bag of weights into the opening. After the weights are inside the toy, you may be able to put some of the stuffing back into the toy. Add back as much stuffing as desired, then push the stuffing and weights around until you have then distributed proportionately throughout the toy.
Finally, it's time to get out your needle and thread to sew the toy back up! This project went rather quickly, I finished in probably about 10 minutes.
Of course, if you're not the do it yourself type, you can always order a weighted , , or turtle.
like this
Have

new

for your . is a difficult problem to address, and finding the right that help with can really feel like a break through. I've heard many stories of the benefits of a

for

and those with , and I imagine they're a smart bet to try for many of our extraordinary that or struggle with .
creating your , and I hope you'll find similar success with a
Check the tag & materials of your & lap animals, and you can rest easy knowing it can provide the needed and be revived with a quick run through the wash when needed!
buddy, but these modifications don't prevent it from being . So you can these