Developing friendships, navigating social situations, and learning forgiveness can be tough lessons for young children to understand. To be honest, many adults still struggle with these things! Stories can be a great way to help children learn about empathy, friendships, and considering the needs of others. Audiobooks are a great tool to present these stories.
Adventures in Odyssey from Focus on the Family has been a long time family favorite in our house (or van). So, you can imagine my excitement when I learned their latest episode "Up in the Air" was all about what it means to be a true friend and reconciliation. Lessons like these that deal with friendship from a Christian worldview are always a hit with this mom.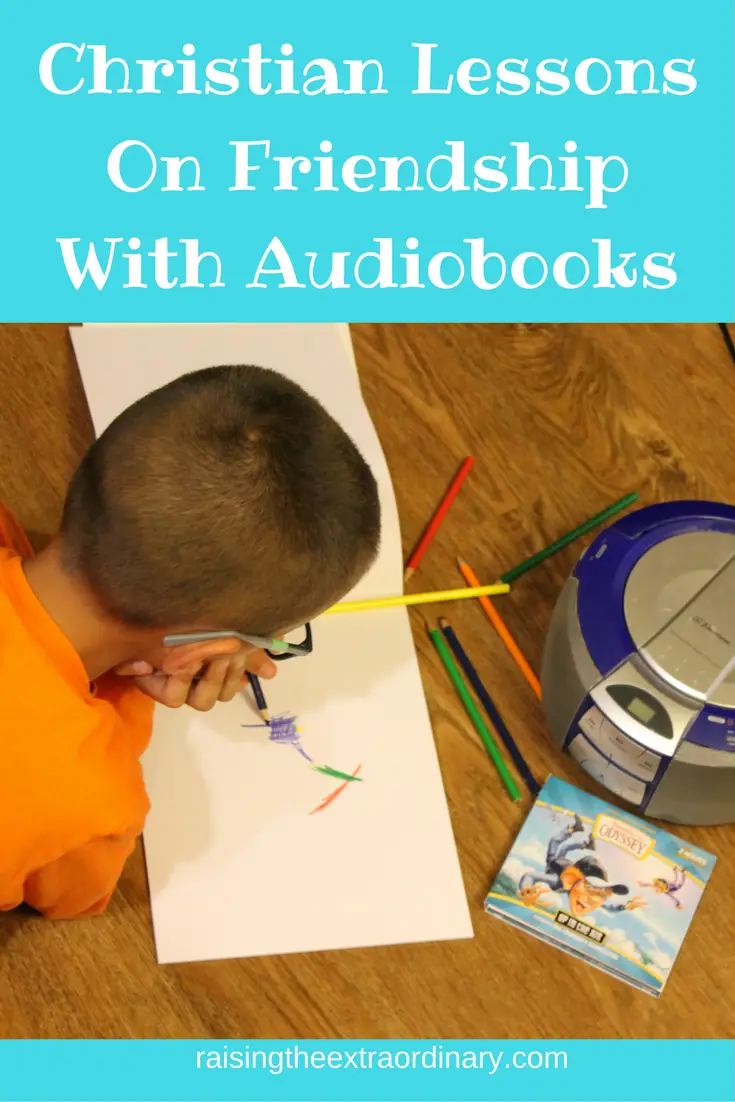 [info_box type="pale_box"]I received this product for free and was compensated for my time. I was not required to write a positive review. My opinions are honest and my own. For more information, please see my full disclosure.[/info_box]
Why Audiobooks?
Some parents are rockstars when it comes to getting into character as they read to their children. I am not that mom. Grasshopper loves listening to Adventures in Odyssey, but he didn't always love it when I read to him. I asked him a couple years ago why he likes Adventures in Odyssey so much but doesn't like it when I read to him. After all, they're both a form of listening to stories. His response was that I don't do cool voices. Since then I've worked on it, but I'm still not very animated.
High quality audiobooks do a fantastic job of bringing the stories to life in a way that engages kids. Adventures in Odyssey produces top notch audiobooks. The characters are brought to life through voice recordings and fun sound effects. They are not just a bland recording of someone reading a book.
Plus, as parents we simply can't sit and read to our kids all day everyday. Audiobooks provide a great alternative when we need to take care of other things around the house. Of course they're also great for road trips when you don't want them watching DVDs the whole time!
Using AudioBooks to Learn About Friendships
Stories have a great way of teaching children about the dynamics of social settings. A well written story will really cause the listener to consider a character's thoughts and feelings as the story unfolds.
Teaching about friendships and social skills is a pretty big deal in our house. Because Grasshopper is autistic, reading people's emotions, being engaged in social settings, and simply carrying out a conversation is difficult for him. Listening to the stories in "Up in the Air" helps him put together the concepts we're trying to teach him by putting them in story form.
Kids need guidance learning how to manage their emotions and learn empathy. Audiobooks are a great resource to help with this, especially highly animated ones like Adventures in Odyssey. Even my autistic child can pick up on feelings the characters are portraying. As a mom, it's fun to hear him engaging in the story. There are few things that help him do this, so I am thankful for these audiobooks.
Why Adventures in Odyssey?
Adventures in Odyssey audiobooks are faith based. Meaning, they're written with a Christian worldview. The stories take place in regular day to day life making them easy for kids to relate to. They all have one thing in common. They teach Biblical principles, encourage Godly character and address these things in a way that our kids will understand.
As a Christian mother, I love that I know my kids are listening to wholesome stories that reinforce the lessons we try to teach them at home.
An added bonus with Adventures in Odyssey is that they are entertaining to adults too. My husband and I both enjoy listening to them on road trips with the kids.
Adventures in Odyssey audiobooks are so entertaining my kids will listen to them over and over again. Which means they are hearing these character building lessons over and over again. And, lets face it, sometimes our kids need a lot of repetition in these areas!
Social Skills Addressed in "Up in the Air"
The latest episode, #63 "Up in the Air" is chalked full of christian lessons on friendship. This audiobook includes 5 different story lines each offering several learning opportunities for developing friendships. Some of the lessons your children will learn are:
Helping a friend in need
How to treat a friend
The difference between a true friend and one who is just using you
Being honest
How God can use a situation to change a person's heart
Forgiveness
Second chances
Looking outside yourself to help someone in need
Dangers of revenge
Being vulnerable with those you trust and feel safe with
Why we shouldn't pretend to be someone we're not
Discussing our problems rather than running from them
Adventures in Odyssey audiobooks are a great resource for any family looking for ways to teach their children christian values in friendship. Of course, you don't have to take my word for it before purchasing, you can listen to a sample from "Up in the Air" first!
Enter for your chance to win a free copy of "Up in the Air"! Focus on the Family is giving away thirty copies to US residents.
For more on Adventures in Odyssey, follow them on Facebook and Twitter.