When I was planning out our homeschool year and what type of curriculum to use I was really drawn to literature based curriculum options. To me, they looked ideal and something that could be enjoyed for so many reasons. Because of Grasshopper's learning disabilities, one of them being dyslexia, I had some reservations. Lets be real here, when you're looking for a curriculum that will go well with your dyslexic son a literature heavy option isn't the first thing that comes to mind.
[info_box type="pale_box"]I received curriculum from Sonlight in exchange for my opinions. I was not required to provide a positive review. My opinions are my own. For more information, please see my full disclosure [/info_box]
Being the special needs mom that I am, I figured there must be a way to adapt a literature based curriculum and make it successful to our needs.
Turns out, I was right! A few simple modifications and we are having a great school year with Sonlight.
Sonlight Basics
If you're unfamiliar with Sonlight, let me fill you in on the basics of their curriculum before we go any further. The basic package they offer covers Bible, History, and Literature. Rather than using textbooks, lessons are taught through books that are written in an engaging way. Rather than simply reading fact after fact like in textbooks, with Sonlight you'll read history in more of a story format.
The Literature component of the curriculum includes both read alouds and readers for your child to read themselves.
For the sake of this post, you should know that we are using Level D. This is the first level in which the books chosen for literature correlate with the history lessons. This makes history come alive and has been so fun!
Ok, now that you have a general idea Sonlight, here is how we make it work with dyslexia.
Modified Bible Time For Dyslexia
The instructor's guide gives two bible readings a day. One that should be read by the parent and another by the child. Since Grasshopper is dyslexic he gets frustrated easily. We are still working on how to read and while I know he needs a lot of practice, I have chosen to simply read all the Bible material aloud to him.
Let's be honest here, the Bible contains a lot of big words he'll likely never encounter outside of the Bible. Taking this into account, along with his current reading ability I have chosen to do the reading. This is simply to avoid the added pressure of reading the Bible passages to me on top of his other reading he'll be doing.
That being said, he is making great progress in his reading abilities. I suspect next year he will be ready to do the student portion of the Bible reading himself.
History
History is easy. There were no modifications for dyslexia needed here. I simply read to him and we have discussion at the end of reading time.
So far it's pretty easy using a literature based curriculum right!?!
Literature Modifications  For Dyslexia
Literature time gets a little more tricky. As I mentioned before, Sonlight has two components to literature. There are the read alouds (read by parents) and the readers (read by the student).
Read aloud time is pretty self explanatory. Again, no modifications needed. I read, he listens, then we discuss. Easy Peasy.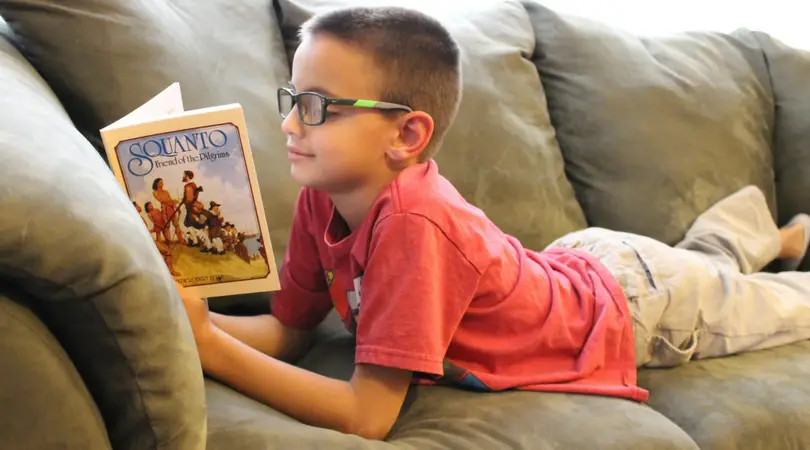 Readers on the other hand is where I find myself making the most modifications. One of the keys to helping your child succeed with dyslexia is practice. Practice, practice, and more practice. For this reason I love having a great selection of readers incorporated into the curriculum.
However, dyslexia also means that he needs to work much harder than your average student to read a single page. Grasshopper can easily become overwhelmed when he sees the assigned reading is a few pages.
I've learned we needed to find a balance between giving him the reading practice he needs without feeling overwhelmed. Once he feels overwhelmed he can reach high levels of anxiety and rapidly go into a downward spiral of wanting to give up.
Finding Balance With Readers
As I mentioned previously, we are still working our way through a reading curriculum. This curriculum has a lesson one day and a story to read the next. Because of how far along he is in this program, the stories have become pretty lengthy. I have decided that on the days his reading lesson involves reading a story, I will read his readers to him. I don't just save his readers assignment for the next day because then he would have two days worth to read and would feel overwhelmed.
If I push too hard causing him to become overwhelmed all the time, he will come to hate reading. That of course is the worst possible outcome. So, I'll lighten his load in an effort to help him come to enjoy reading.
Another way to modify his readers is to take turns reading. Learning how to gauge your child's limits can be key here. We need to find that balanced between encouraging growth and pushing too hard. I found taking turns was extremely helpful for my son.
We started the year off by alternating pages. He would read a page and then I would read the next page. This proved to help him gain fluency, AND self confidence. Since the start of the year, he is now reading longer portions. Sometimes he'll read three pages before I read one. I've even managed to get a chapter or two out of him by himself!
Dyslexia and Literature Based Curriculum Can Work
Homeschooling a child with dyslexia and using a literature based curriculum sounds like a really bad idea. I mean dyslexia means they are struggling with reading, and literature means lots of reading. Why would anyone think the two should go together?
Getting our dyslexic children wanting to read can be a challenge. I mean no one wants to do something that is naturally difficult right?
Yet, here I am. Living proof that not only can they go together, but it can be a great idea! What better way to help our children learn to love books than by reading to them.
What better way is there to help our children overcome the struggles of dyslexia than gently walking along side with them.
Sonlight has provided the perfect platform for me to bring these two together to help my dyslexic son learn to enjoy books, and feel confident in his reading skills.