If you've been homeschooling for more than a month you've more than likely encountered a bad day or two.  You might even find yourself questioning your decision to homeschool.  I think it's pretty safe to say that every homeschool mom has felt the urge to give-up from time to time.
Why We Feel Ready to Give-up
The desire to give-up on homeschooling can come for various reasons.  Sometimes we find ourselves fighting feelings of inadequacy, that we're not good enough or smart enough to do this.  Other times we might find resistance from our kids.  Maybe they feel like they're missing out on the school experience with their peers, or maybe they just plain don't want to "do school".  A combination of all of these happen in our house from time to time.
So how do we, as mothers, overcome all of these periods of time where we feel like giving up?  If we're honest with ourselves sometimes the idea of sending our children to school is tempting.  Here are some tips to handle those times come when you feel ready to give-up.
Remember Your Why
When you feel ready to give-up on homeschooling, remember why you started in the first place.  Were there reasons you didn't want your child attending public school?  Do they have needs that are better met at home?  Did you want the flexability in your schedule homeschooling has to offer?  Maybe your why was to give your children a Christian education?
Take some time to reflect on your reasons for homeschooling.  Write them out, do they still apply?  Chances are your reasons to homeschool in the first place are still valid.
Focus on Your Mission
Do you have a mission statement for your homeschool?  If not, take some time to make one.  If you already have one, evaluate how your homeschool is operating in comparison to your mission statement.  Does your homeschool reflect your mission statement?  If not, take a look at where you can make changes.
If your homeschool day doesn't reflect your mission statement you'll lose sight of your priorities.  It doesn't take long to feel like you want to give-up if you lose sight of your mission.  Having a clear cut set of priorities and sticking to them will help you focus your tasks on what's important to you.  This will give you the drive to continue homeschooling.
Take a Day Off
Often times wanting to give-up stems from feeling overwhelmed and burned out.  This is true both for us as parents and our kids.  Don't be afraid to take a day off and do something fun.  Go bowling, swimming, see a movie, go out for pizza.  Get out and do something fun with your kids.  Maybe you just spend a whole day playing games.  Be creative, and have fun.
p.s. taking a day off doesn't mean our kids won't learn anything!
Allow Your Kids Time to Explore Their Interests
This is especially true if the reason you feel tempted to give-up is coming from your kids' attitudes.  Make sure you give them space to learn about topics that interest them.  Of course you can't neglect things like reading and math.  But when it comes to other topics give them some say in what they study.  Is there one particular area of science they want to study?  Maybe there's a specific time period they want to study for history.
Giving your kids some say in their education will help them be excited to learn.  There is nothing more gratifying when homeschooling than seeing your kids excited to learn.
Get Involved In a Homeschool Group
Homeschool groups are amazing for a few reasons.  First, it gives your children a chance to do various of activities with other kids.  These activities can be both educational in nature or strictly for fun.  Second, it gets you out of the house.  No matter how amazing your homeschool is, we all need to get out from time to time.
Lastly, homeschool groups can be amazing because of the support you get from other moms.  Building relationships with other moms who are also in the trenches of homeschooling is encouraging.  We can troubleshoot our difficulties together, and pray for each other.
Chances are someone in the group has faced the same challenges you are facing.  I bet they've wanted to throw in the towel and give-up a couple times as well.  They could possibly have suggestions for you, and share how they've gotten through a difficult season of homeschooling.  Lean on your fellow homeschool moms for support.
How do you stay strong when wanting to give-up on homeschooling? 
Comment below!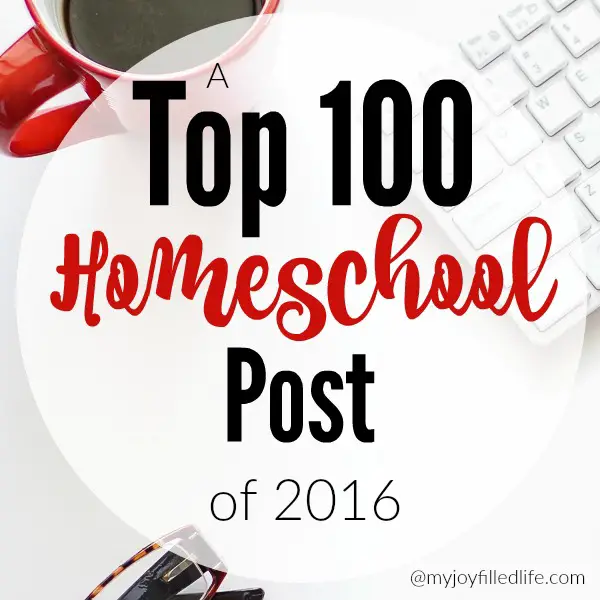 I'm excited to share this post made the list of top 100 homeschool posts of 2016!  Check out the other 99 here!
Don't Miss A Thing!
Don't miss a thing by joining my newsletter.