Sometimes it can be difficult to find a curriculum suited for hands on learners, especially in the area of History.  I've looked at a lot of great history curriculum options over the last couple years.  The reoccurring problem I was experiencing in trying to find a good fit, was that most were a text book format without hands on learning opportunities.  I wanted to study Ancient Egypt this year, and knew it could be a topic with many project opportunities.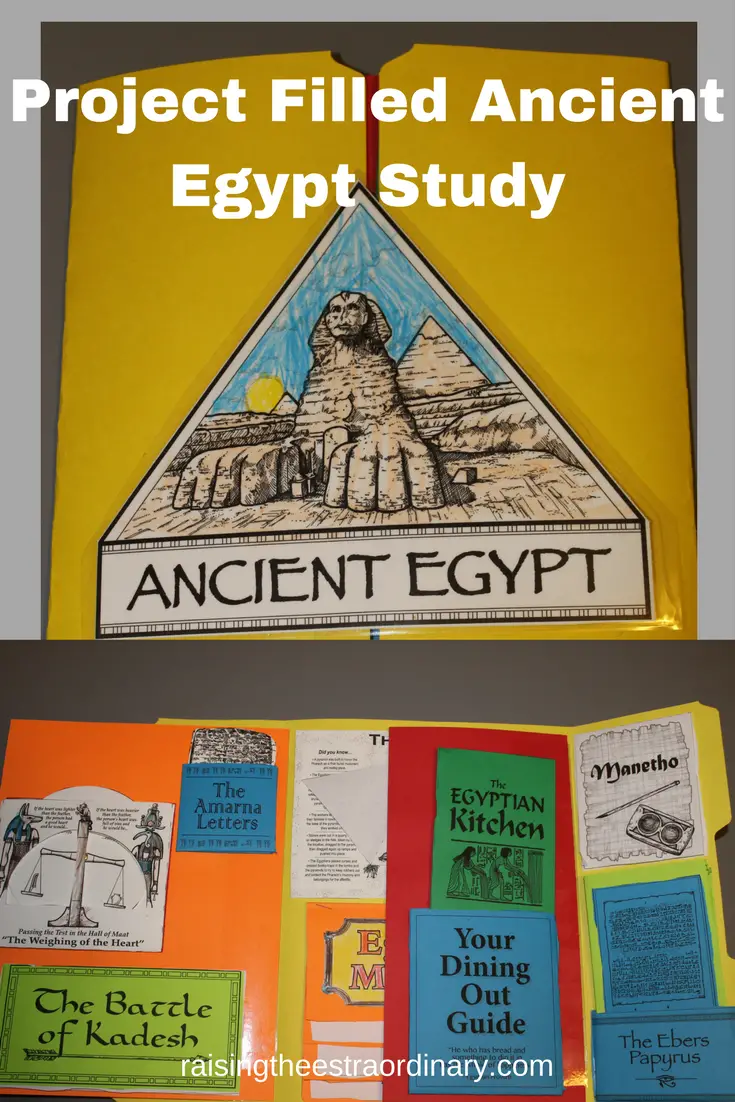 Grasshopper learns best with visual and hands on activities.   I was on a mission to find a history program for Ancient Egypt that was filled with projects, great information, and would be affordable.  I was pretty excited when I found that Homeschool in the Woods met all three of these requirements.
 Click here to visit Home School in the Woods.
Grasshopper was pretty excited when I told him we were going to study Ancient Egypt.  He thought it would be pretty interesting, and as we wrapped up the study he said it was even better than he thought it would be!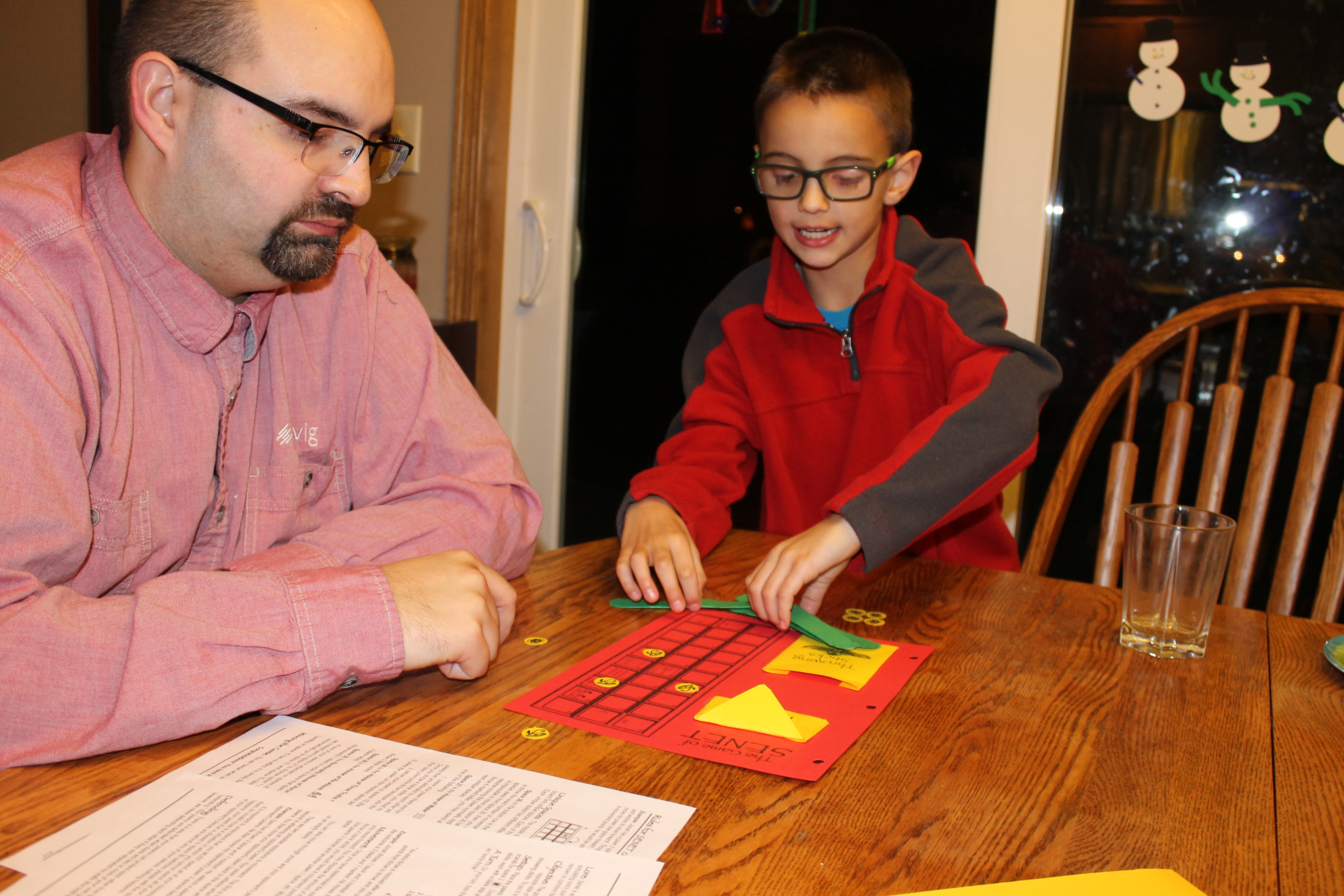 Pick Your Projects
The curriculum comes with a TON of projects!  You COULD choose to do every project they supply, but I suggest you pick the ones that are appealing to you and your kids.  Some of the projects available to pick from include the following.
Newspaper – Your children are given headlines as writing prompts and space to write a couple sentences about the text
Lap book – This was our first lap book experience.  I was very thankful for the easy step by step directions including how to fit it all into the folder.
timeline
map
games
hieroglyphics – translate words into English
costumes
make a papyrus
step pyramid
Egyptian art
postcards
and MORE!
With so many options available to you, you can see why I suggest just doing the ones that interests your kids!
Christian Based
Ancient Egypt was a pagan culture that worshiped many gods.  However, it also holds many Biblical accounts in its history.  The Biblical accounts are referenced though this curriculum.  Starting from when the first settlers came to Egypt after the flood.  It was fascinating to see when and where in history these Biblical accounts took place.
A couple of the projects are centered around Bible passages as well.  One of my favorites was the lap book project that showed how each of the plagues on Egypt from the book of Exodus was a direct attack on one of Egypt's gods.
Well Designed Lesson Plans
When it comes to project based lessons, I always worry about whether or not we're doing it right.  Homeschool in the Woods does a fabulous job giving step by step directions.   If you like to see a finished project, the instructions are complete with pictures.
There isn't a lot of prep time required, which is important for busy moms like myself!  There was maybe 5 minutes of prep time for the lessons.  Most of the prep time was spent printing the projects.  If you choose to do some of the more creative projects there might be a little more prep time to gather your supplies.
Each lesson has a couple pages of text to read to you kids.  Some even have an audio tour in MP3 format to listen to.
Additional Resources
If you wish to take your study of Ancient Egypt deeper, they also offer a great list of additional resources.  You'll receive a list of recommended books, both fiction and non-fiction.  Also a list of videos that correlate to the study.
These are not required for the course, so again do what suits your family best!  We were able to find a couple documentary dvds from the library that Grasshopper watched while he was sick.    We were in the middle of another book series for our read aloud time when we started the study so we didn't take advantage of the books suggestions.  However, I plan on finding a few of these at the library in the next couple weeks.
Why Study Ancient Egypt?
Ancient Egypt is a fascinating period in history.  There is also still a lot of mystery in Egypt's history which might be why it's so fascinating.  One of the reasons I wanted to incorporate an Egyptian study in our homeschool this year was because there are a lot of Biblical history in Egypt as well.  I wanted to teach Grasshopper about Egypt so he had a better understanding of these scripture references.  It was fun to see him put the pieces together.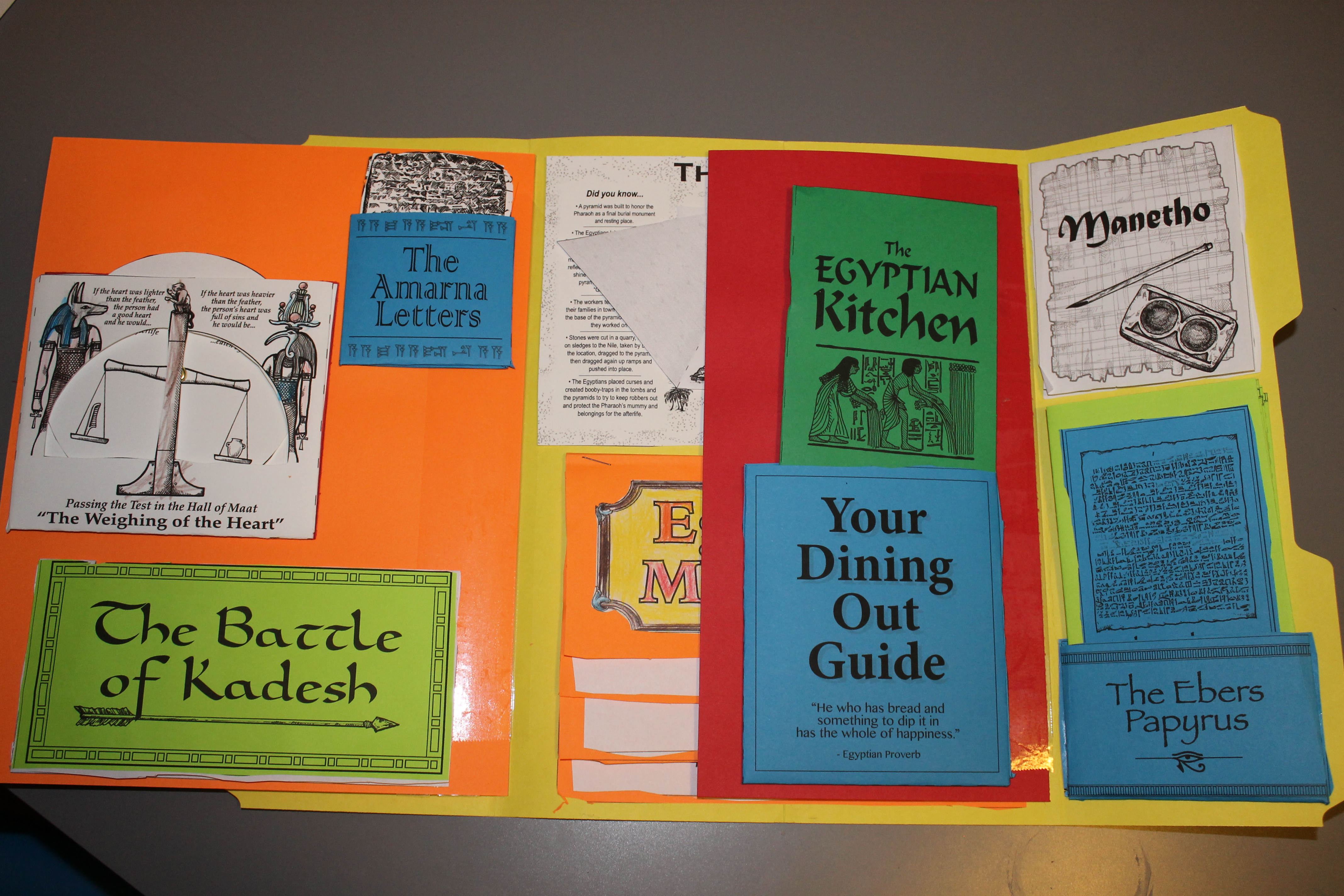 Don't Miss A Thing!
Join my weekly newsletter to make sure you don't miss anything!