I know my stress levels never seem to ease. I'm always tired and this affects my willingness to play every time you wish. I apologize if my continued state of burnout makes you feel guilty. To you, my child, I want you to understand a couple very important facts. First, I love you unconditionally. Your disability does not make me love you any less. In fact, there are so many things I need to thank you for because of your special needs.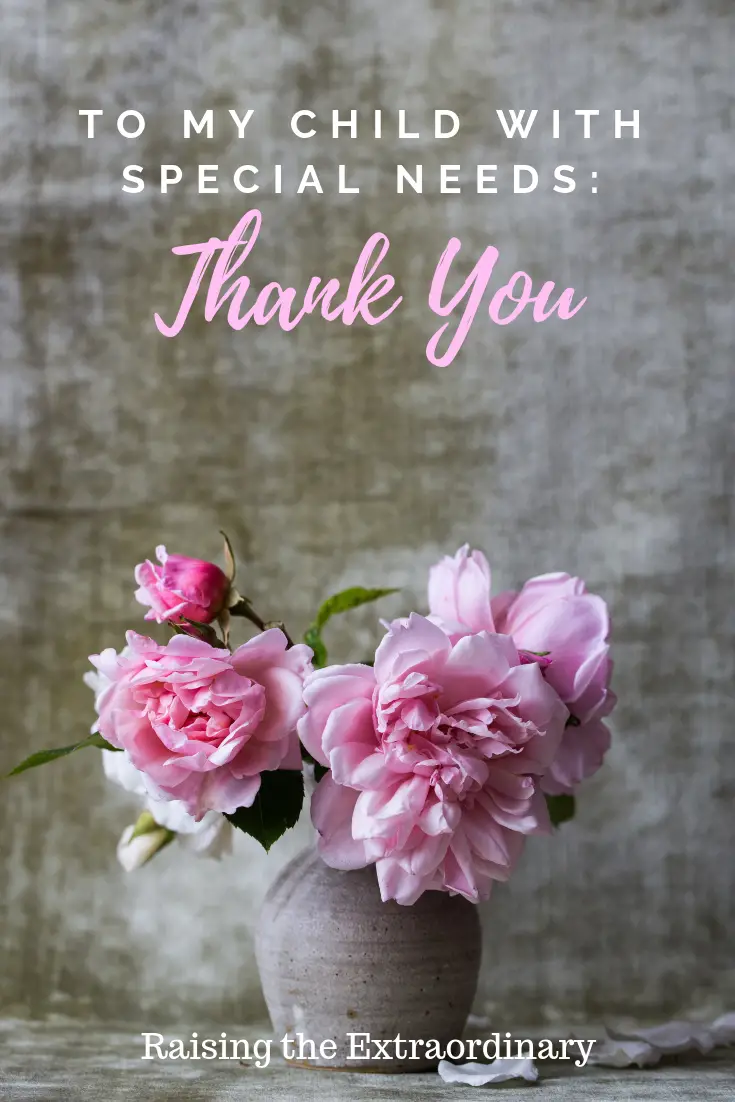 Thank You For:
You've made me stronger. Before becoming your mom I would never stand up for myself. Because of you, I have new found boldness and courage.
You Help me appreciate the little things in life.
You've taught me to change my perspective on life.
You have taught me what real joy is and how to find it in its purest form.
You have opened my eyes to a whole new world filled with the awesomeness and beauty of individuals with special needs.
You've taught me how to slow down and enjoy life.
You bring new adventure to our lives each day, life is never boring with you around!
You've taught me patience (something I really needed to work on).
You also taught me perseverance, not giving up when things get hard.
You've taught me what acceptance really means.
You have shown us how to stop and smell the roses.
You taught us what selfless love really looks like.
You taught us what selfless love really looks like #specialneedsmom #specialneedsparenting #specialneedskids #thankful
Click To Tweet
You Are Amazing Because of Your Special Needs
So despite the days where I am stressed to the max, I hope you never feel like you are a burden. We love you more than anything and wouldn't trade you for the world. God is using you for amazing things.
Our lives didn't turn out as we may have envisioned them. I would argue though, that we are better for it. We didn't know what God had planned when he surprised us with you and your awesomeness. Nevertheless, we are thankful that His plan is being carried out and not our plan. Our lives are a thousand times richer because you are our child.