We love listening to audio books especially in the car.  Some people are opposed to the idea of audio books for their children because they want their kids to focus on learning how to read.  I understand the argument, but I still love them.
I love them because often when in the car, my voice may not carry all the way to the back if I'm reading aloud.  Plus, on trips where dad has to stay home, I'm driving.  I don't recommend reading and driving at the same time.  We also love them because they are often read by actors, bringing the story to life.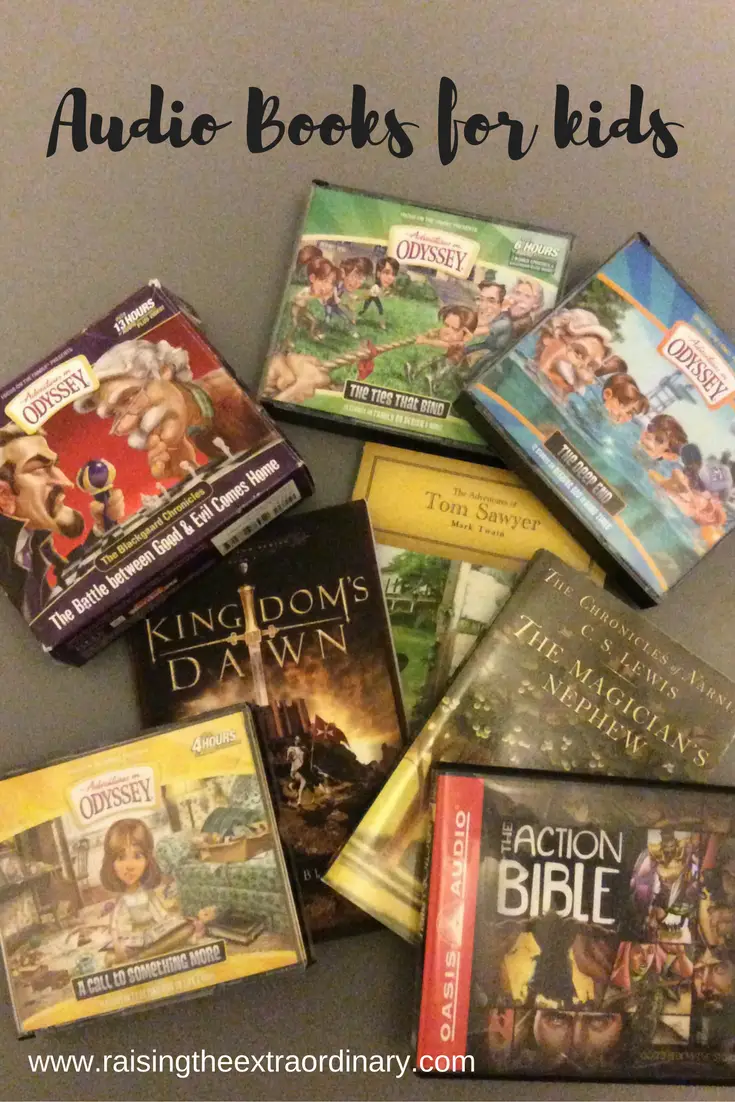 Audio books are also excellent for kids with dyslexia like Grasshopper.  With audio books they are able to engage in stories at their age/intellectual levels when their reading level might not allow them read the book.  Plus, if you have the physical book your dyslexic child can read along while they listen to the book.
All of the benefits of read aloud time still apply with audio books, you're just listening to the story in another format.
Our Audio Book Picks
Adventures In Odyssey Our kids love Adventures in Odyssey! There is no way I could pick just one, which is why the link isn't to a specific adventure.   Brought to you by Focus on the Family, these audio books are amazing.  They do an excellent job with character building and Biblical story lines.  The characters are very entertaining, my husband and I enjoy listening to them as well for road trips.
Kingdom Series This 6 book series by Chuck Black is amazing.  In a nutshell, this is an allegory on the Bible set in the time of knights and castles.  You can read my review on the books here.
The Action Bible  If you're not familiar with the Action Bible, it's a children's Bible written in comic book form.  It's really great especially for young readers or kids addicted to comic books.  The audio book version is no exception.  Grasshopper has gone to sleep listening to this every night for two years.  Often times when we're reading a Bible story he'll stop me and tell me the whole story based on what he's heard from this audio book.
Adventures of Tom Sawyer  This is a great timeless classic.
Chronicles of Narnia Another great series, but 7 books can be intimidating for a dyslexic child to read.  We have all of the books, but I'm planning to get this on audio book as well so Grasshopper can read along with the CD.
What are some of your favorite audio books?  Comment Below!