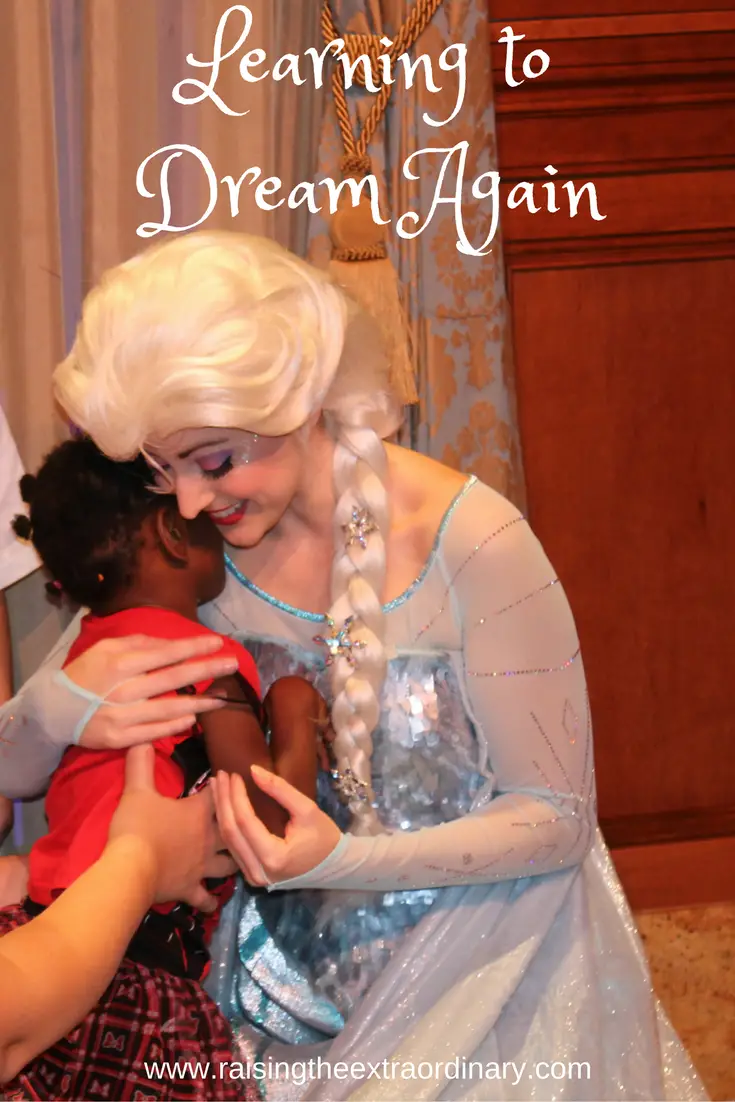 In a previous post  I explained the grieving process that comes with learning your child has special needs.  More often than I care to admit, I feel like it's a process that has me going in circles.  Every time I hear of accomplishments babies and toddlers are making in their development there is some effect on me.  Sometimes it's a simple thought going through my head thinking I hope Ladybug can do that some day too.  Other times it feels like I've been kicked in the gut and it takes all I have to hold back tears.  As I reflect back over the years of this special needs parenting journey, I've come to realize that after we grieve we can dream again.
One of the biggest kick in the gut grieving moments happened a few years ago at Ladybug's preschool.  There was an hour of class time blocked off for parents to come and participate in various activities with the kids.  Keep in mind our world is so wrapped up in Ladybug's treatments/therapy that sometimes I forget what it is she "should" be doing at this age.  Ladybug and I had fun making crafts, having snack, playing games and so on.
Then it was circle time, where all the kids sit in a circle and sing a couple songs before going home.  That's when it hit me like I had just run into a brick wall.  The kids were asked to stand.  It's simple I know, but it's something Ladybug cannot do.  So there we sat, watching the kids sing their songs with all of the coordinating actions.  Ladybug was having fun watching and getting excited.  I however was putting on my brave face trying not to lose it.  It was especially difficult as I saw all of the other parents taking out their phones to forever capture their children in this moment of achievement.
It makes me feel horrible when I have moments like these, when I allow myself to let it bother me.  I feel bad for Ladybug's sake, I don't want her to ever feel like she's letting me down over her inabilities.  After all, it's not her fault.  Plus, she works extremely hard to do the things she can.  Truth is, I am very proud of her.
If you find yourself in the middle of one of those "kick in the gut" type grieving moments, I hope you'll find some encouragement here.  Learning to dream again isn't something just for parents with special needs children.  It's for anyone who has ever had to let go of a dream.  For us the dream we needed to let go of was having a daughter who would do the things any other little girl would do.
I still go through cycles where I grieve the old dream; but, I am able to let go much more quickly now.  The grieving also doesn't happen as frequently as it once did.  God is teaching me how to dream for Ladybug again, and it is beautiful.
Today our dreams are different, we dream of when she'll sit up, walk, use her fingers independently, stop eating everything (literary everything).  Some of our dreams are the same, we're simply learning how to adapt them. For instance, she'll probably never walk independently, but with the help of a gait trainer she's getting there.  The important thing is that we are indeed dreaming again.
A couple of years ago we were in the middle of a lengthy treatment process for Ladybug.  She needed to go through a process of new casts on her feet each week for 6 weeks to realign bones.  This
was followed up with another surgery both on her feet and hips.  It wasn't her first surgery and she's had more since, but this was a stressful time for us.  Quite frankly, we needed some fun in our lives.  My husband and I decided it was time to dream big.  We took a family vacation to Florida after Ladybug had recovered from Surgery.  It was a big dream, and an important one.  We needed to learn it was ok to dream.  It was time to make some fun memories with our kids.  Our family needed experiences outside therapies and treatments.
If I were to refuse to let go of the old dreams, life would be miserable.  I would be holding onto feelings of anger, jealousy, and bitterness.  These feelings would not be healthy to me, or my family. It's impossible to hold onto those feelings and still be the mother and wife God has called me to be.  If I were holding onto those feelings I wouldn't be as engaged in Ladybug's therapy, and she would see little progress.   Most importantly, if I was holding onto those feelings I would not be allowing God to change me and use me for His purpose.
Allowing myself to dream again means I notice the complete joy Ladybug has for life.  If I were harboring feelings of anger, I wouldn't be able to see the fact that she is genuinely happy, or enjoy her small successes.
So friends, grieve when you need to; but, when you can learn to dream again.
Don't Miss A Thing!
Don't miss a thing by joining my newsletter.