Our family recently took a vacation to Disney World. I realize this is a popular vacation for many families with young children, but we chose Disney for some special reasons. Just like any other reason for a vacation, we needed a break. We wanted to escape from life and enjoy time together as a family for a week. For us, an escape means a break from doctors, therapy, special education, treatments, and all things associated with being a special needs family. Since we wanted a break from all these things, we needed a destination where Ladybug's wheelchair wouldn't cause limitations.
So, we set out for one of the most accessible and handicap friendly places out there. We went to Disney World.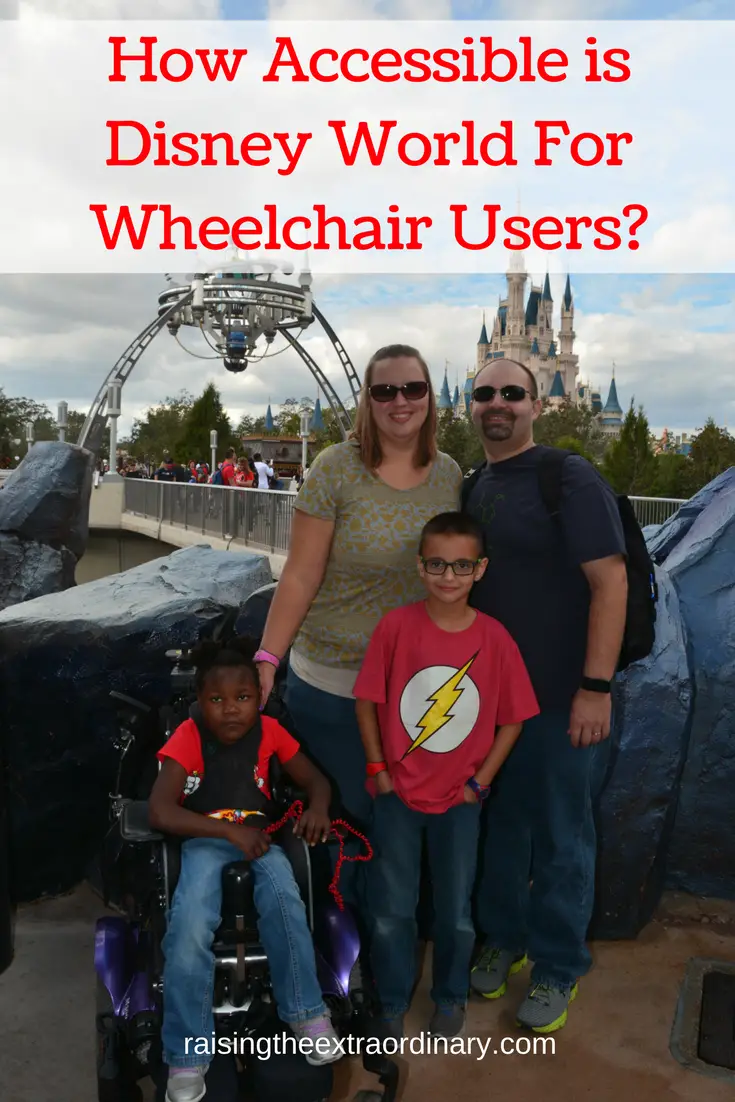 Families like ours go in and out of Disney's gates every day. While special needs families like ours still are not the majority, we are also not a rare occurrence. Disney World is built to be an accessible destination. Plus, their cast members know exactly how to accommodate to our needs.
Transportation
From the moment our plane landed in Orlando, we only used Disney transportation. Because we were staying at a Disney World Resort Hotel, we were able to take advantage of the Magical Express. This is a complementary service that transports you to and from the airport.
Magical Express uses coach buses. Our travel agent wasn't 100% sure that each of the Magical Express bus had a wheelchair lift, so she did note on our reservation that we would need one. Once we checked in for the bus we were sent to a special line for individuals with wheelchairs or needing assistance because those were the parties loaded first. I can't say I looked at every bus down the line, but it seemed to me that they were all equipped with a wheelchair lift.
Once on property, all of the buses that run from place to place are ready for individuals traveling in a wheelchair (or scooter). Each resort has a bus stop going to each of the parks and Disney Springs. These buses run on a continuous loop all day. Every 15-20 minutes a new one comes. Each bus line also has a separate spot for wheelchair users, again these families are loaded first. Because of this, with the exception of when we stayed at a park until closing time, we always got on the first bus that came. Each bus can accommodate at least 2 wheelchairs/scooters. Some can accommodate three.
We also utilized the Monorail system for park hopping. Like the bus lines, there is a designated place for us to wait for the monorail and a cast member is there to put down a small ramp to easily get on and off.
We had no problems getting Ladybug's wheelchair from place to place. We also never had the need to transfer her out of the wheelchair for transportation.
The Resort Hotel
Disney World has a large selection of hotels to choose from. From value hotels to luxury resorts there is something for everyone. We chose to stay at on Disney property for a few reasons.
First, we wanted to avoid needing a rental car. Because Ladybug uses a power wheelchair we would need to rent a modified vehicle with a wheelchair ramp or lift. I don't want to know what it costs to rent one of those for a week, I'm sure it was out of our budget.
Secondly, we wanted the ability to easily go back to our room during the day so we could take a break. Since our son has autism we knew we may need to give him a safe place for sensory breaks as well.
Getting around Disney World takes time. Even if you're staying at a resort on property you can expect 20-45 minutes to get from a park gate to your hotel. Getting to a hotel off property would take much longer. It would be less practical to take afternoon breaks in our room with a hotel off property.
Lastly, there are other perks Disney offers for staying at one of their resorts. We had the opportunity to get fast passes for attractions earlier and enjoy Extra Magic Hours (when the park is open longer only for those staying on property).
Our Resort
We chose to stay at Disney's Pop Century Resort. This particular resort is one of their nicer value resorts. The price point was right for us, and actually comparable to hotels off Disney property. We discussed different room ideas with our travel agent and she was really helpful in making sure our room had the space to maneuver a wheelchair.
We booked an accessible room, and it suited our needs just fine. I will say the room was tight. There wasn't a lot of room for turning Ladybug's wheelchair. We knew when we booked that the room wouldn't be overly spacious, but that we could manage. We were ok with booking a room like this because we knew we would only be there to sleep. If we were planning a longer vacation, or planned on spending more time in our room, we  would have considered a moderate resort so it would have been more spacious.
For the price and our needs the room worked out great. We were happy we didn't spend money at a resort with larger rooms simply because we weren't there enough to enjoy it. We spent the majority of our time in the parks. I realize others do spend more time at the resort in their rooms. If that's you, and someone in your family is using a wheelchair you might consider going to a more spacious room.
Overall, the resort was highly accessible. There were no concerns for us as we wheeled Ladybug around.
Having A Wheelchair In The Parks
The Disney parks are a magical place with something for everyone to enjoy. Yes, even wheelchair users.
If you're not already aware, Disney World consists for four major parks. Magic Kingdom, Epcot, Hollywood Studios, and Animal Kingdom. Each of these parks offer attractions where an individual never has to leave their wheelchair.
Attractions With no Transfer Needed
Many attractions allow for a wheelchair to roll right in. Some of these include Kilimanjaro Safaris, Toy Story Mania, The Seas With Nemo and Friends, Buzz Lightyear's Space Ranger Spin, The Many Adventures of Winnie the Pooh, and Under the Sea – Journey of the Little Mermaid just to name a few.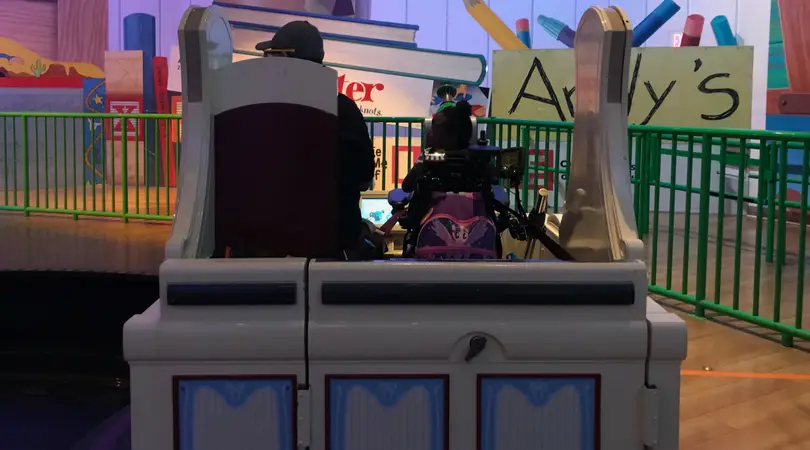 Of course all show attractions with a theater setting have special designated handicap seating. Some of our favorites were Fantasmic and Indiana Jones Epic Stunt Spectacular at Hollywood Studios, The Festival of the Lion King at Animal Kingdom, and Mickey's PhilharMagic at Magic Kingdom.
Attractions Requiring Transfer From Wheelchair
Like any theme park, there will be attractions where you will need to transfer from the wheelchair to experience them. Here is a complete list of attractions from Disney.
To transfer from the wheelchair to the attraction, the individual must be able to either due this themselves, or with assistance from their party. A cast member cannot assist with the transfer. They will however make sure your wheelchair is where you exit the attraction when it's over. For our situation, Ladybug is unable to do any transferring by herself. However, because she's only 8 my husband and I were able to transfer in and out of any attraction she met the height requirement for.
My number one tip in this area is to take advantage of the attractions that offer the individual to stay in their wheelchair. The first couple of days we did a lot of unnecessary transfers simply because we didn't want to wait the extra 5-10 minutes for the adapted seat or boat. Our backs paid for it. Save your strength for the rides that require a transfer. Five days of Disney parks is a lot! We're glad we took this trip when Ladybug was still young enough for us to do all the extra lifting.
That being said, we don't regret needing to make her transfers. We learned she is a roller coaster loving thrill seeker! Oh the giggles, they were priceless!
Here are some of our favorites that required transferring Ladybug from her wheelchair.
Magic Kingdom:
Pirates of the Carribean
Peter Pan's Flight
Big Thunder Mountain
Splash Mountian
Seven Dwarfs Mine Train
The Barnstormer
Animal Kingdom:
Dinosaur
Na'vi River Journey
Avatar Flight of Passage

This attraction is incredible, our favorite ride of all. However, is is a different seating design. For this attraction, you straddle a seat, lean forward and a support system comes up behind you to hold you in place. We had concerns about this attraction because Ladybug lacks trunk control (but has full head control) There is a mock chair outside the attraction (without the back support). We tried that chair first and she was fine with that part but we were unsure if she would actually be able to ride until we saw if the back support would be sufficient for her. The supports worked fine and she LOVED the ride. I will also note that it's a smooth ride, not jerky at all.
Hollywood Studios:
Epcot:
Frozen Ever After
Soarin'
Spaceship Earth
Overall Accessibility Impressions
Our number one goal with our family vacation was to experience a place our whole family could enjoy. Not only just enjoy, but enjoy it to it's fullest without worrying about disability restrictions.
I will say our Disney World vacation did not disappoint. Everything we wanted to experience Ladybug had the ability to experience. I can't speak for some of the thrill rides designed for older (or taller) individuals but there were very few that fit into this category for us.
Ladybug enjoyed every minute. Grasshopper wasn't told we can't do something because of Ladybug's wheelchair/disability restrictions. And my husband and I didn't feel like we were singled out as the special needs family. It was truly a magical experience for all of us.
Disney does a fabulous job accommodating to the needs of wheelchair users, and training their cast members in these accommodations. It was just the escape we needed.