Recently our family embarked on a much needed and long over due vacation. We chose to take the kids to Disney World for a variety of reasons. One being that my husband and I also needed a break from being viewed as the "special needs family". Most wouldn't recognize Grasshopper as special needs (autism means he falls into the "unseen disabilities" category) our daughter's cerebral palsy and wheelchair makes us stand out.
Not only do we stand out, but more often than not attractions are not accessible for individuals like her. We needed an emotional break from being viewed as the special needs family. We needed a destination that was highly accessible and where staff are trained in how to accommodate for our needs. Disney World would be just that. Families like ours are there everyday, and they are ready for us.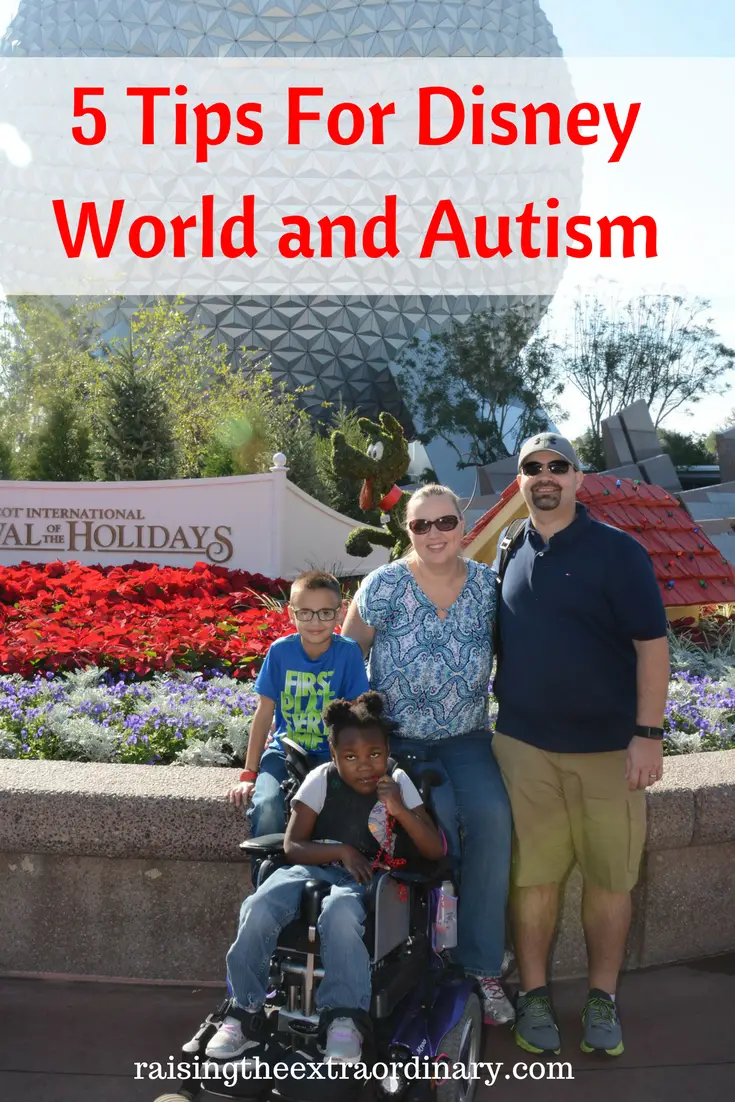 Concerns For Our Autistic Son
While Disney World offers a highly accessible and magical vacation for our physically disabled child, we had some concerns for our son with Autism and ADHD.
Now, I realize that no autistic child is like the next. For the sake of this post, you should know that Grasshopper is 9 years old and would actually fall into the Aspergers category if it were still being used.
It's no secret that children with autism have difficulties with sensory processing and can become overstimulated. It's also no secret that Disney World is full of sensory overload! Naturally, we had some concerns but we were going to give it a try.
Our Experience
We had an amazing trip to Disney World. It was really fun to see Grasshopper express excitement and emotions in a way he typically doesn't at home. We also saw him connecting with the rest of the family on a deeper level than he typically does.
It wasn't until the end of our third day in the parks that he started to meltdown. It was also the end of the day so he was tired. We were at a point where it was really easy for me to just sit and squeeze him (something that is typically calming to him).
Our trip was a busy one. We stayed at one of the value resorts on Disney property so it would be easy to go back to our room for breaks. We did 5 days in the parks. We enjoyed Animal Kingdom, Magic Kingdom, Epcot, and Hollywood Studios.  There were attractions at each of these parks that Grasshopper was looking forward to which meant he was excited each day.
Two of the days we arrived at the parks early enough for rope drop. This is when you can get so far into the parks before they officially open. Then at opening time, they drop the ropes letting you in.
Two days we were out at the parks until about midnight. We did take advantage of going back to our hotel twice so everyone could take a nap for about an hour. This really helped with the late nights.
We packed a lot into one week for anyone, let alone a child with autism. If we didn't do the following five things it could have been disastrous.
But it wasn't. These five tips were key to help our family have an enjoyable vacation.
1. Plan Ahead
If you've never been to Disney World, or even if it's been a few years since you've been there, you need to plan ahead. Disney World has so many things to offer there is no way you can do it all. If you go expecting to go from attraction to attraction without a general plan, you will soon realize that was a mistake. The last thing you want to do is take your child with autism to Disney World without a plan.
Take time to plan out what attractions you want to make a priority. Remember, you won't be able to do everything. Prioritize and make a plan. In fact, I highly recommend a travel agent that specializes in Disney. They are a great resource. A good one will help you through each step.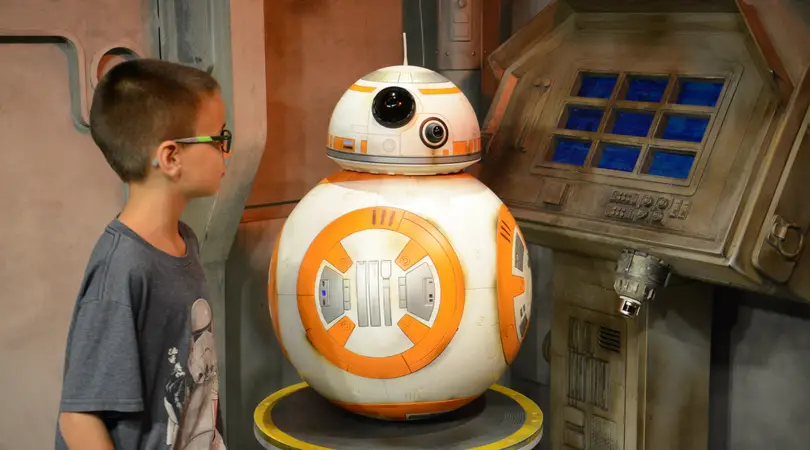 If you're staying on Disney property, you can make dining reservations (if you're choosing to do sit down table service meals) 180 days before you're check in. You can also schedule 3 fast passes per day 60 days out from your check in date. Take advantage of this perk if your child wants to do any of the main attractions.
2. Prepare Your Child With Autism
Grasshopper doesn't like surprises. He had been on a small roller coaster designed for children a few years ago and he didn't like it. The biggest reason he didn't like it was because he didn't know what was going to happen.
We prepared Grasshopper for months (maybe a little excessive but I was really excited). The number one thing we found helpful was You Tube videos. We found many videos that were taken while on rides and attractions which means he knew what they were and what to expect.
In fact, his anxiety levels were starting to rise when we were getting ready to ride one of the roller coasters. We simply let him watch a You Tube video right before we went on the ride, made sure he knew he would be buckled in and we would hold onto him. He still had a little anxiety going on but agreed to give it a try. That ride became his favorite and we had to ride it again later that night!
Discussing our plans for each day was helpful too. Which days would we be out late, which days were we getting up early, when would we take breaks, you get the idea.
3. Have a Plan For Sensory Breaks
If you have a child with sensory sensitivities Disney World probably isn't the first place you think to bring them. First, I suggest going during a slower time of the year. This won't take away all the stimulation but it will help having smaller crowds.
Second, think of what they need at home and have it available to them while on vacation. You might want to find a quieter part of the park to sit and relax for a while. Bring along noise canceling headphones, gum, fidget objects, use what you know will soothe them. I also suggest planing to go back to your hotel room mid day for an hour. I know it can be hard to leave the park for a little while mid day. But, if it means you avoid a sensory meltdown and all of your park time is enjoyable, it's time well spent.
If you have a smaller child you might think of having (or renting) a stroller. Even if they're walking just fine, being able to sit and bring the sun canopy down can help block out some sensory input.
At Magic Kingdom, we enjoyed hoping on the train that circles the park. It was a great way to just sit for a while and escape the crowds. The train is noisy when it comes up to the stops though.
4. Use The Disability Access Services
Your autistic child may or may not qualify for Disney's disability access service (DAS). You won't be automatically granted DAS simply because your child has a disability. However, they will be issued one if there is a valid concern for them while in the parks. The inability to stand in a long line IS a qualifying reason to be granted DAS.
When it comes to getting DAS, you do not need to provide any proof of your child's diagnosis. In fact, they cannot even ask you for proof. So there is no need to bring a doctor's note or medical records along.
The DAS doesn't let you automatically just cut in any line. When you want to enjoy an attraction with a long wait time, simply walk up to the fast pass line and ask for a come back time. You will then be given a time where you can come back that will be equal to the current wait time. For example, if it's 1:00 and the wait time is 60 minutes you'll be allowed to come back at 2:00 (or anytime after 2) and they will let you enter through the fast pass line.
This was a life saver! We would have missed out on so many attractions without this simply because there was no way our kids would tolerate a long line. Some families who don't understand what it means to have a child with autism might think we're just taking advantage of a situation. However, I have a feeling they would change their tune if they were standing next to us in line for two hours.
The DAS also gives you access to special areas designated for individuals with disabilities but we didn't take advantage of them.
5. Have Realistic Expectations
Like I said before, you will not be able to take in everything you want to do. Know this going in. I suggest allowing each family member to have their must do experience, and make them a priority.
Expect your child to need breaks and be willing to take them. Our children with autism might not be so flexible, but we need to be! Yes, taking a break might mean giving up a ride and that can be frustrating. After all, we spend a lot of money to be there and we want to do as much as we can!
However, we also know what an autistic meltdown looks like. We know how long they can take to recover from. We know the emotional toll it can take on us as parents (especially in public). I would rather miss out on a park attraction to help Grasshopper stay calm than push him to a breaking point.
Bonus Tip
Enjoy the time with your family. Vacations are amazing for so many reasons, but especially for special needs families. Enjoy time being away from therapy, treatments, special education, IEPs, doctors, and all the things that are a part of our daily lives with autism. Be a kid again, have fun, laugh, let your guard down and enjoy yourself.