A couple years ago we took a family vacation to Orlando.  Like most special needs families, we are constantly on a pretty tight budget.  Flying a family of four and renting a vehicle was out of the question.  However, traveling is my favorite thing to do and our family NEEDED a vacation!  So I did what I do best, I come up with a crazy idea and convinced my husband it wouldn't be that bad.  We embarked on a road trip from northern Minnesota to central Florida!  Everyone thought we were crazy to drive that far with young kids, but we've come to embrace being known as that crazy family.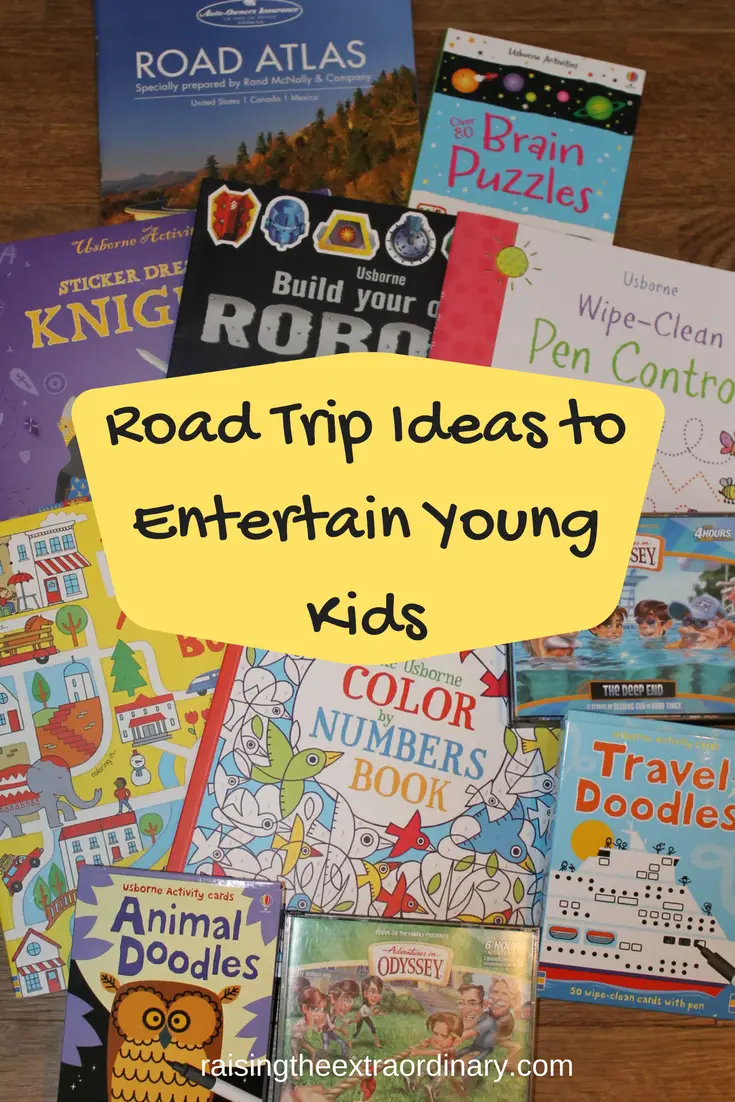 Road Trip!
You want to know what made us even crazier?  Because of our tight budget, we didn't want to waste our money on traveling. We wanted to save our resources so we could do things once we got to Florida, so we drove non stop!  Ok, yes we stopped to eat and use the bathroom; but, we didn't stop to get a hotel room and sleep.  Drive time alone was about 26 hours, yes I'm crazy.
This was our first big vacation with the kids.  We didn't really know what to expect at theme parks with the kids especially when throwing special needs and a wheelchair in the mix.  So, we invited my parents along for the trip.  It was super helpful to have them along, especially since having four drivers meant we could drive through the night.  My dad (knowing I was crazy for suggesting this trip) brought along earplugs expecting the worst, but never needed them.
Now, we are gearing up for another long drive to Texas.  This trip will be for a surgery for Ladybug so not as fun but I'm getting excited for the trip (I'm really flying my crazy flag high today huh?).  As we're preparing I thought I would share with you some road trip activities to keep the kids entertained other than movies.  Don't get me wrong, we do watch some movies on long trips, but I don't encourage it for 26 hours straight!
Atlas
Something that was super helpful for Grasshopper on our trip was using an atlas.  Before we left, I pointed out where we live and St. Paul on the map.  St. Paul is where we usually drive for Ladybug's doctor appointments.  This trip is about 3 1/2 hours.  Then I showed him where we were going.  It really helped put things in perspective for him.  He was able to visually see how far we had to go.  As we were driving we could show him on the atlas where we were so he could visualize how much further the trip was.  He was even able to look at the individual state maps to chart our way through the state.  Well, as well as a kindergartner could anyway.
*hint – you might be able to get a free atlas from your insurance agent
Wipe-clean Books & Cards
Usborne Books and More have some pretty amazing wipe-clean books.  They come with a dry erase marker.  You'll find a wide variety from basics like beginning pen control, writing letters, numbers, words to more advanced things like telling time, beginning math.  You'll also see they have wipe-clean books for just plain fun activities like mazes, themed activity books, and dot to dots.
The wipe-clean cards are also a road trip favorite.  Again these cards come with a wipe clean pen.  The card size is perfect for road trips, and with packs like "Travel Doodles" and "100 Things for Little Children To Do On a Trip" they're perfect to take along on your road trip!  A little tip – punch a hole in the top corner of the cards and fasten with a ring binder to keep the cards together.
Activity Books
Getting a new activity book for a road trip is a great way to give them something special to make the trip go by faster.  Maybe they would enjoy these activity packs or a step-by-step drawing book.  Maybe your kids enjoy puzzle books or sticker books.  Whatever kind of activities your child likes, there are activity books for them!  Find a special new book to keep them entertained on the trip.  They will keep them quiet and maybe you can take a nap (assuming you're not driving)!
Audio Books
Audio books are a great way to keep your kids entertained.  They provide all the benefits of read aloud time, without any reading required from you!  Some of our kid's favorite are Adventures in Odyssey, my husband and I even enjoy listening to these character building stories.  We've killed many hours of drive time listening to audio books!
Sleep
If they're young enough where your kids still take naps, try to schedule your trip so they'll nap on the drive.  If they're beyond naps (like our kids) then I suggest driving through the night if you can.  I realize this doesn't work in every situation but it's something to consider.
If driving through the night isn't an option, consider getting up and starting your drive early in the morning (like hours before the sun comes up).  Keep the kids in their pajamas, put them in the car and hopefully they'll go back to sleep.  Of course, this can backfire on you.  We tested this theory once on a drive to the black hills in South Dakota (8 hour drive).  We thought we could drive a couple hours then stop for breakfast when the kids woke up.  They didn't go back to sleep until we were five minutes from our destination.
What are your favorite road trip activities?  I would love some more ideas, comment below!
Don't Miss A Thing!
Join my weekly newsletter to make sure you don't miss anything!