Valentine's Day is fast approaching.  In general I'm not a huge fan of the day.  I don't like that everyone feels they need to express their love on that particular day.  I would much rather have that love expressed in a more spontaneous way in day to day life, than out of a sense of obligation.  That being said, I also would like at least a card or notes from my husband and kids for Valentine's Day.  After all, I'm still a woman/wife/mother and need my love tank filled.  Love is not only meant to be expressed to our significant other.  It should also be expressed to our children.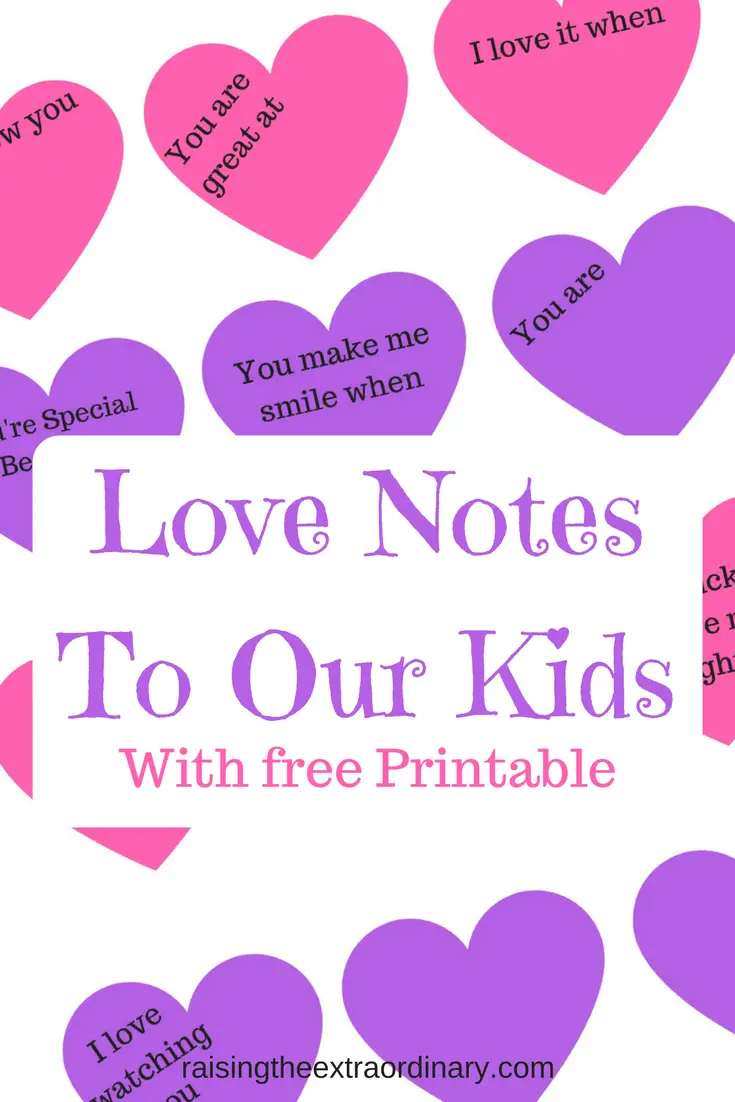 Love Notes To Our Kids
So in my mind set of expressing our love everyday, not just on Valentine's Day.  I thought it would be fun to leave little love notes to our children everyday from now until Valentine's Day.  Who knows, maybe I'll bust them out other times of the year too.
I created some love notes to leave our children.  They are small hearts with prompts to write what we love about them.  A fun, simple way to leave personalized notes for our kids to show them how much we love them.  There are also couple blanks as well to be creative.
I encourage you to use them, and be creative.  Make it fun for your kids.  Maybe you can find fun places to leave the notes.   Maybe one day they'll see it with their breakfast, the next it will be by their toothbrush.  Leave it on their pillow, tape it to the video game controller.  If their job is to unload the dishwasher, tape a note to it.  I think some of the more unexpected places to find their love notes will make it more fun for both of you.
Where will you leave your kids' love notes?  Comment below and lets share ideas!
Don't Miss A Thing!
Join my weekly newsletter to make sure you don't miss anything!