I'm just going to come right out and say it….I don't have an official language arts curriculum.  *Gasp* I know, I know, I'm not your typical homeschooling mom.  But hey, my son is both dyslexic and has ADHD, so he's not a typical student either.  We make a good pair ;).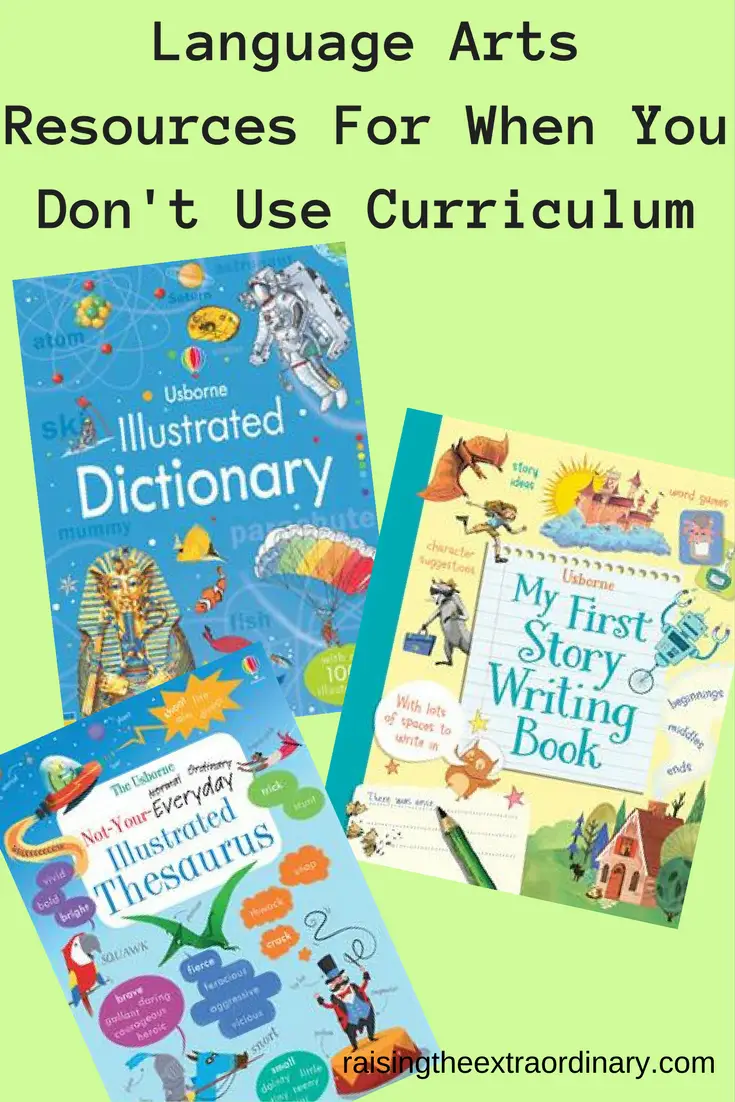 So here's the thing about our homeschool.  Everything we do is based on Grasshopper's needs.  The lessons are specifically tailored to meet his learning style and help him be successful in spite of his challenges.  After all that's why we homeschool right?  I knew at the start of this school year that trying to teach a bunch of grammar rules and expect writing assignments longer than two sentences would be too much for him.  So I didn't force it.  Instead, we worked really hard to overcome challenges of dyslexia by focusing on reading and spelling.
The following is a list of ways and resources I implemented to make language arts happen in our homeschool without a curriculum.
Read Aloud Time
Everyday we start with devotions followed by read aloud time.  There are numerous advantages to read aloud time.  When it comes to language arts, our kids are expanding their vocabulary when we read to them.  By continuing to read to them even after they are reading on their own, they will hear words that they wouldn't hear otherwise.  After all, if they are only reading books at their level, they will not encounter the bigger vocabulary words beyond their reading level.
Read aloud time is also a great way to help your child discover all of the adventures and excitement that can be found in a good book.  This is especially important to our dyslexic readers.  Too often they are intimidated by reading big chapter books and give up before they begin.  By reading aloud to them, they are still able to have access to great literature.  Audio books are also a great option here.
Book Reports
Sometimes I will assign Grasshopper a simple, non-intimidating one page book report.  I do not assign a book report with every book we read because I don't want him to associate reading with work.  This is particularity important for reluctant readers.  One way we can kill any hope of our children ever discovering a love for reading is to give an assignment with every book they read.  Don't do it.  Just don't.
Resources We Use
I love the Illustrated Dictionary from Usborne.  It is perfect for our elementary age students who are at the beginning stages of learning how to research and look things up.  This dictionary is filled with eye catching illustrations making it visibly appealing and fun for our kids.  It isn't just a boring list of words and definitions.  In fact, often times if Grasshopper is looking up a word, he will see an illustration and decides he also needs to learn what that picture is of.
The Not-Your-Everyday Illustrated Thesaurus is another great resource from Usborne.  Again, this book is filled with illustrations making this reference book engaging to kids.  The book is categorized by topic (not alphabetical like we're used to) but also has a great index in the back.  The thesaurus is a great reference for writing assignments and expanding vocabulary.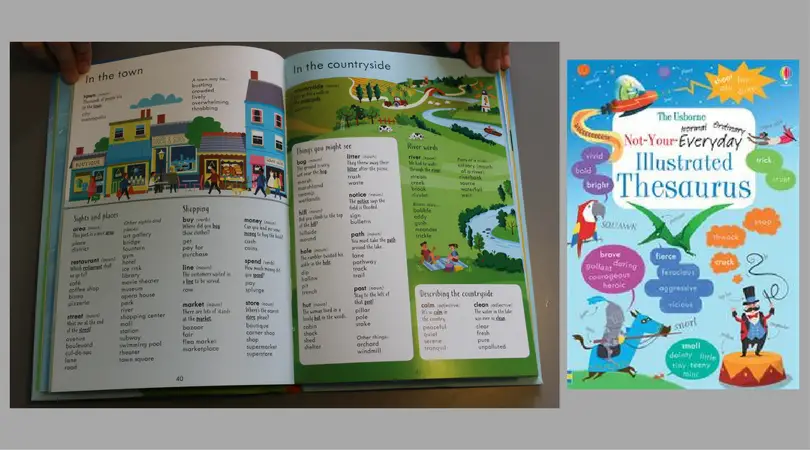 My First Story Writing Book is perfect for beginning writers.  This gives the fundamentals of writing and works your child through different writing prompts.  It starts with very basic concepts like writing about yourself and describing words.  As you work through the book your child will be introduced to concepts like the parts of a story, and creating a scene.  By the end of the book your child will plan out their own story and write it! I love how this book encourages creative thinking and helps guide them through the writing process.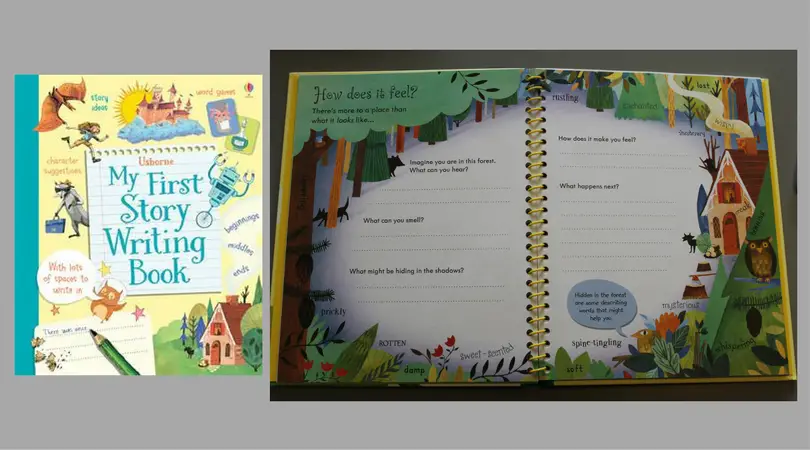 If you think your child is too old for this basic level book, check out Creative Writing Book, Write and Draw Your Own Comics, Write Your Own Adventure Stories, or Write Your Own Storybook.
What does language arts look like for you?
Don't Miss A Thing!
Join my weekly newsletter to make sure you don't miss anything!