One of the biggest hangups I experience homeschooling is getting stuck in a rut.  Since I'm not a very creative mom, I usually don't think out side the box to make our lessons fun.  Because of this, we find ourselves just going through the lesson plans each day.  I wanted to get our homeschool out of this rut, and Grasshopper wanted some more fun activities.  So I set out to find something that would be fun, engaging, and educational.  I also wanted to find something that wouldn't be too demanding on our time keeping us from finishing our other lessons.  I was particularly looking for something science based since that's my son's favorite subject.  That's when I came across the Anatomy Adventure Series from Know Yourself.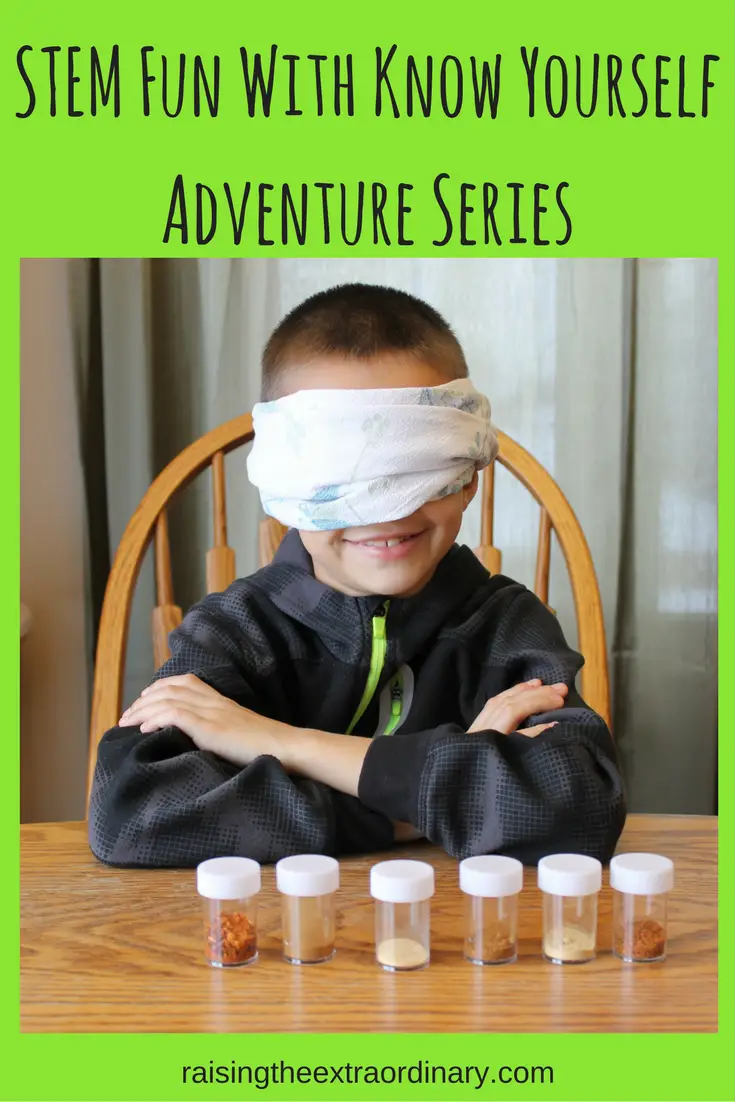 Know Yourself Adventure
Each month, your child will receive a new kit in the mail.  This alone makes it fun for the kids, I mean who doesn't like getting packages?  Each kit comes with an educational comic book, and the supplies needed to complete various hands-on STEM based projects.  Through these adventure kits, your students will study the anatomy of the human body such as your five senses, skeletal system, circulatory system and more! (depending on the subscription length you select)
The best part, the price is right!  The fact that the adventure kits come with everything needed to complete the projects means you save time and money.  Not only are the kits affordable, but the activity materials are re-usable.  These activities can be done again and again.  Which is perfect if you need to save them for a younger child, or want to add your own spin on the activities!
Comic Book
Each kit comes with an issue of Time Skaters comic books.  It is really fun and enjoyable for kids.  The comic will teach your kids the science lessons that correlate with the activities in the kit.  As a mom, I appreciate how the characters go back in time as part of the story line.  This means that our kids are not only learning the scientific concepts, but learning a bit of history at the same time!  Anytime I can get in some "sneaky learning" is a win in my book!
Hands-on Projects
My son loves any opportunity he has to do experiments!  This was what really drew my to the Know Yourself Adventure Series.  We just finished the first adventure which is the five senses.  The kit contains activities to demonstrate each of the five senses.  The adventure kit also contained everything needed for these projects with the exception of a blind fold, and spices for the project on the sense of smell.  That being said, there were not specific spices required for the project, so you can use whatever you have in the kitchen.
Some of the learning activities in the first adventure kit include:
Smelling spices blindfolded and discussing what they think the smell is, what it reminds them of, and how it makes you feel.
Hearing rhythms to explore sound waves and rhythm patterns
Writing with invisible ink that is revealed with a UV light
Seeing how refraction sight works by looking at a book through a water filled glass
Using food coloring to find your fungiform papillae (bumps that contain your taste buds)
Using putty to find different textures on various surfaces, and using the sense of touch to feel the textures on the putty.
And more!
It's fun to see how all of these hands on projects have made my son more aware of his five senses.  It was also fun to see how the adventure kit sparked his imagination.  After doing the UV light and invisible ink project, Grasshopper has plans to play "spy bros" games with his friend.
While the adventure guide gives you easy to follow step by step directions, it was also easy to modify some of the projects to test theories my Grasshopper came up with.  I love seeing his creative juices flowing and was happy to see that the materials could be used over for project variations.
Ways to Use Know Yourself Adventure Series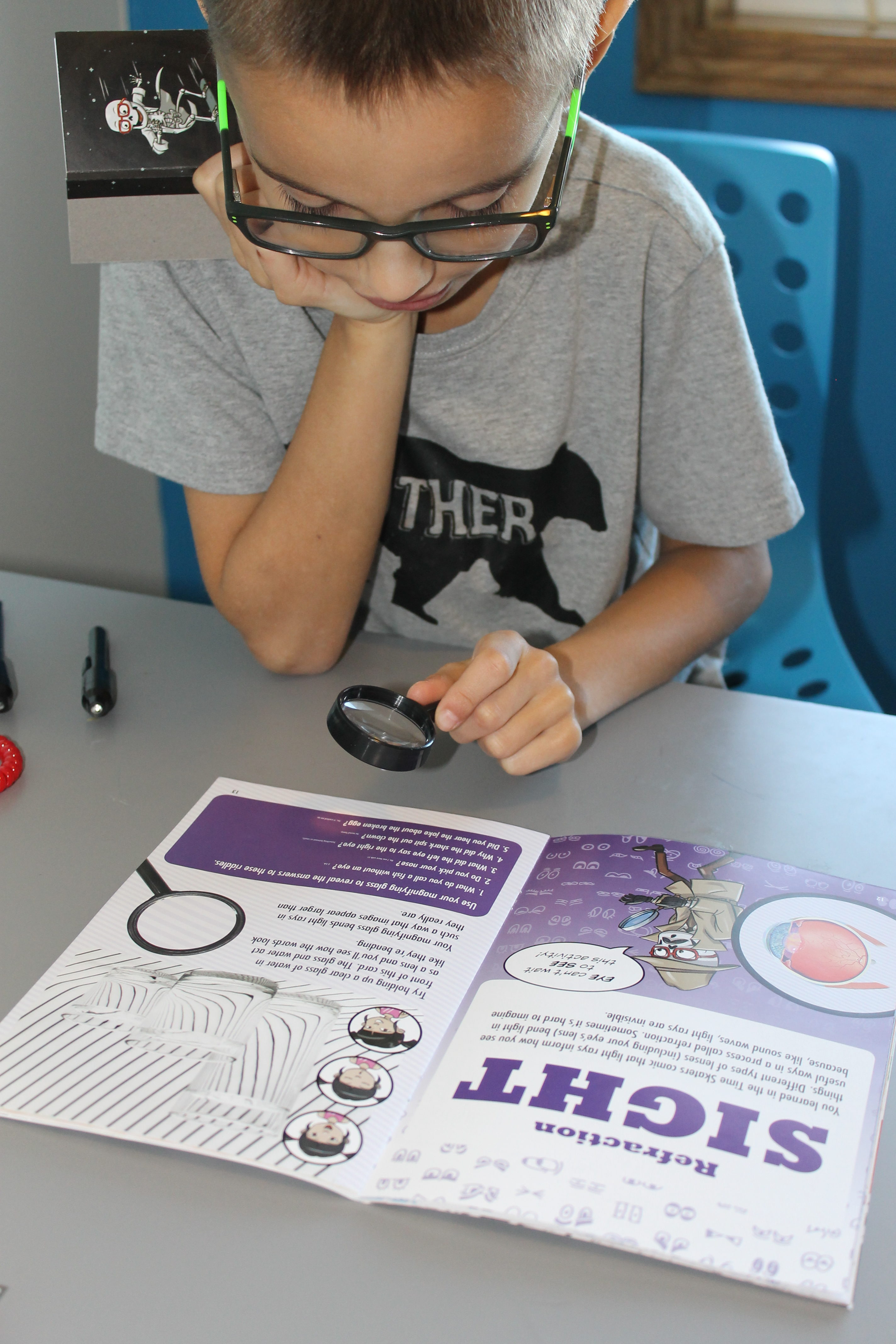 There are several ways I could see incorporating the adventure series into your routine.  The adventures can be used with either one student or in groups, perfect if you're teaching multiple kids.  It would also make an excellent addition to any study on the human body, especially if your study doesn't include any hands-on activities.
You could even use them with your homeschool co-op.  Simply set up a station for each of the activities and have the kids rotate through each station.
The best part is that you don't need to pair it with anything!  If you're like me, simply looking for something to add some fun in your day this adventure series will not disappoint!
My Overall Impression
Grasshopper is loving the Know Yourself Adventure Series.  He really enjoys hands on learning, and these kits are chalked full of learning opportunities.  The best part is, he didn't feel like the kits were "doing school".  He didn't view the adventure series as just another lesson we needed to complete.
As a busy mom, I appreciate the simplicity of the kits.  The projects are fun, educational, and thought provoking for kids.  At the same time they are not over the top and take hours to complete.  With these kits we are able to learn through hands on activities.  It was easy to add into our homeschool day.  I didn't feel like we needed to miss out on any of our other homeschool lessons to fit in the kit activities.
Overall, I feel the Know Yourself Adventure Series is an excellent resource to add some spark in your homeschool day at an affordable price.
Don't Miss A Thing!
Join my weekly newsletter to make sure you don't miss anything!