If you would have asked me a year ago what my homeschool style was I would have answer with "winging it". I had great plans at the beginning of the school year for all of those elective classes. One day would be coding, one would be art and so on. My plan however had one major flaw. I didn't have it written down anywhere. Clearly, I needed a homeschool planner in my life.
I received this product for free and was compensated for my time in exchange for an honest review. My opinions are my own. I was not required to give a positive review of this product. For more details, please see my
full disclosure
.
The Need For a Homeschool Planner
Our homeschool is pretty structured when it comes to the core classes of reading, spelling, math, science, and history. The curriculum I use has a pretty easy open and go teacher's guide. I generally don't need a lot of planning to get those courses in. All of those electives on the other hand, well my plans lasted two weeks.
So why did my plans fall apart so quickly? I believe it's because I didn't have it written down to hold me accountable. Without all of these items planned out in a schedule it was pretty easy to just neglect them. Obviously I needed to find a homeschool planner if I was going to stop the same thing from happening again this year.
Why I Chose an Online Homeschool Planner
Before implementing an online planner, my schedule was a constant state of chaos. My scheduling method consisted of having a calendar at home on my desk where I wrote every activity and appointment down. The problem was, it stayed on my desk. When I was away from my desk needing to schedule an appointment, I had no idea what our schedule looked like.
Because I'm a special needs mom on top of a homeschooling mom, I needed a planner I could access from my phone. Our homeschool schedule tends to revolve around doctor and therapy appointments, so the ability to see my calendar while scheduling these appointments was a must. I didn't want to simply schedule appointments with a phone calendar app, and have a separate homeschool planner at home. After all, sometimes those appointments needed to be scheduled around homeschool activities. I needed an online planner that would offer solutions to ALL of my scheduling needs.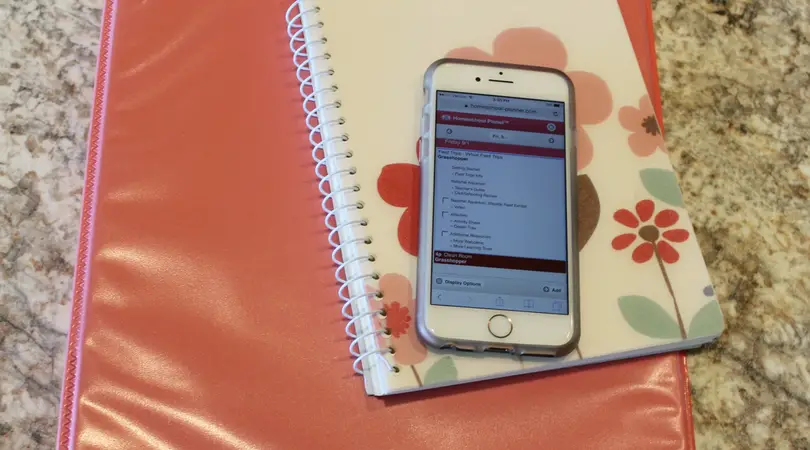 I needed an #onlineplanner that would offer solutions to ALL of my scheduling needs. #ihsnet…
Click To Tweet
As cute as all of those physical homeschool planners are, lugging one around with me on all of our appointments just isn't practical. My hands are already full between my purse, snacks, and activities to keep the kids busy. Not to mention actually taking care of my kids! The less I need to bring on these appointments, the better. At the same time, I can't go to these appointments without my calendar. So I was thrilled to find the online homeschool planner Homeschool Planet from Homeschool Buyers Co-op.
Also, because my homeschool planner is online, it's really easy to make changes to your schedule. After all, a planner is for making a plan and we all know that life happens and plans change. Having an online planner means I can change the plan as life demands it without having a big cluttered mess of crossed off items on a calendar.
Overview of Homeschool Planet Benefits
Homeschool Planet offers the most customization for an online homeschool planner I've seen. Everything from choosing your theme to adding widgets you need. This planner really can meet the needs of every homeschooler no matter their style.
The sanity saving benefits of Homeschool Planet include:
Track the number of school days and school hours (helpful for those of you in states that require this)
Plan your school year with a start  and end date
Easily decide on your first and last day of school to complete your curriculum while accounting for your no school days
Ability to simply reschedule an entire day (life happens after all)
Daily Digest can email each family member their own schedule complete with assignments for the day
Text or email reminders including shopping lists!
Grading Helper allows you to easily record and track grades
Easily schedule items for multiple days (every Monday for example)
Reporting options include assignment lists, class notes, grade reports, class hours, and transcripts!
Each child can have their own log in to see and check off assignments
Ability to personalize settings like a grading scale
Pick your desired widgets on the home screen. Some options include to-do list, reading list, shopping list, daily quote, daily Bible verse, weather forecast, ect.
Calendar sharing with your spouse
Add on Lesson Plans to schedule assignments complete with web links, notes, and more!
As you can see, Homeschool Planet can help any homeschooling mom tame the chaos by simplifying your planning with an all in one planning system.
My Favorites
Like I said before this homeschool planner doesn't have to be an all or nothing system. I don't use all of the features listed above simply because they don't apply to our homeschool. For instance, Grasshopper is still in elementary school so I'm not giving him grades at this point. We also live in a state that doesn't require a set amount of school days or hours, so again I simply don't utilize that feature.
I do however have some favorites that have been life changing for me.
First, like I said before, I needed an all in one planner that was mobile. Our lives seem to revolve around medical appointments so having access to the planner on my phone has really simplified my life.
The ease of scheduling an activity for multiple days is a huge time saver. You can completely customize an activity. For instance if Monday is art day in your homeschool, you can schedule it in the planner to occur every Monday during the school year and only enter it once! You can schedule something to happen every other Tuesday, the 10th of every month, every weekday….you get the idea. Easy, one entry, customized scheduling.
Finally, my favorite widget is the to-do list widget. This widget has seriously been life changing for me. I have used the daily to-do list to prioritize the overwhelming list of things to get done into a manageable daily list. I've also used the list to add self care into my day without feeling guilty. Like I said, this widget has been life changing.
Free Trial Offer!
Ok, I know this all sounds great, right? Now, I know what you're probably thinking. You're wondering if it really will work that well for you, and if you'll be able to use it to help tame your planning chaos. Well, you're in luck friends. Homeschool Planet has a free trial offer that will allow you to test drive their homeschool planner for 30 days. At the end of those 30 days if you decide it's not for you then no harm done, but if you find it helpful you'll be ready to purchase without hesitation!
In addition to your free trial offer of Homeschool Planet, you can also get free Virtual Field Trips with lesson plans! This is a perfect opportunity to see how those add on lesson plans work.
Want to learn more about resources from Homeschool Buyer's Co-op? You can follow them here
Facebook | Twitter | Pinterest | Google Plus | Instagram
Don't Miss A Thing!
Join my weekly newsletter to make sure you don't miss anything!