One of my favorite things about homeschooling is that I am able to teach Grasshopper from the perspective of a christian worldview.  Children in public schools are being bombarded with so many un-biblical worldviews it seriously breaks my heart.  These "lessons" are coming at them from teachers and students alike.  I do believe we need to introduce our children about the un-biblical worldviews out there so they are prepared for leaving the nest. (read why here.)  However, I strongly believe it is my job as a mom to instill in our children a strong foundation of faith.  Even if you're not a homeschool mom.  It's so important that they are ready and able to stand up for what they believe.  We need to prepare our kids for the worldview that the Bible is no longer relevant.
When searching out different resources for teaching a Christian worldview, I was looking for the following:
Does it hold true to what the Bible says?
Did it hold true to God's word over being politically correct?
It couldn't bend based on what is considered socially acceptable
It needed to take an unapologetic stance on standing firm in your faith
Is it presented in a way that children could understand?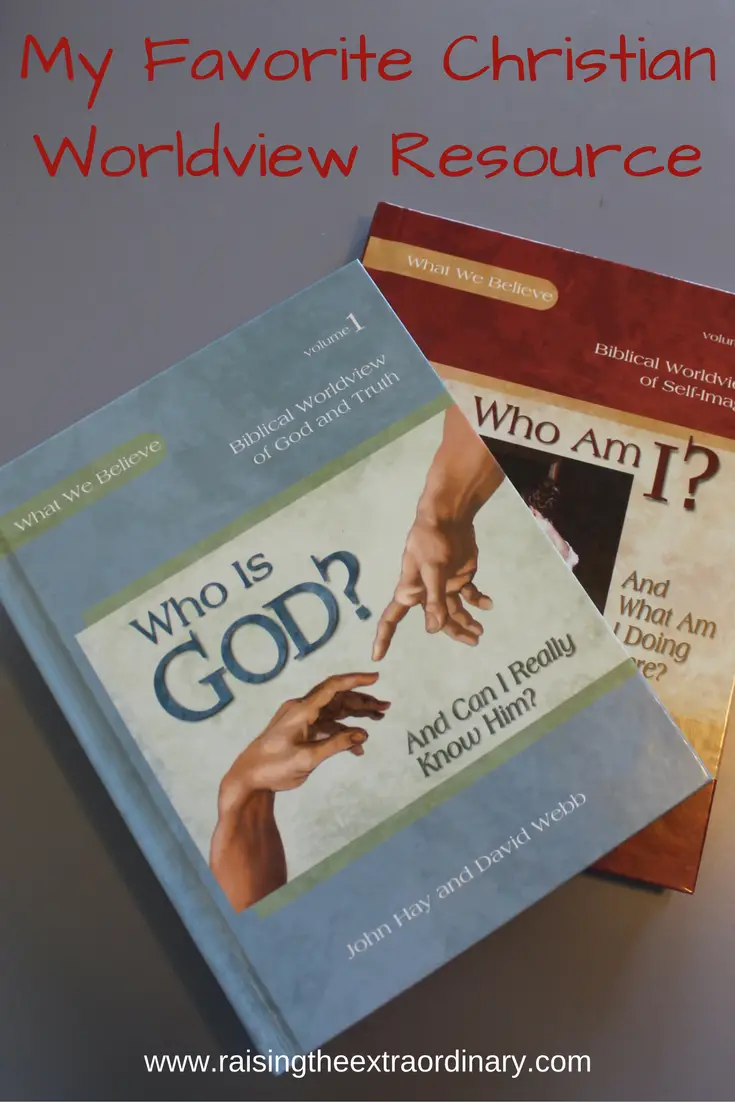 I am happy to report that all of these criteria have been met with the Apologia What We Believe Series.  This series is comprised of 4 textbooks titled: 'Who Is God?' 'Who Am I?' 'Who Is My Neighbor?' and 'What On Earth Can I Do?'  You can also purchase a notebook to accompany each textbook.  There are 2 notebook options, the notebooking journal and the junior notebooking journal.  The junior notebooking journal is recommended for kids ages 6-9, and the regular notebooking journal is for older kids.  This means you can teach from the same textbook to all your kids at the same time.  The course is recommended for kids ages 6-14, but honestly I think many adults could benefit from it!
We completed Who Is God last year when Grasshopper was in 1st grade.  I honestly cannot say enough good things about the content of these books!  There are full of faith building text backed up with scripture.  Each lessons also contains a story kids can easily relate to and become engaged in.  Not only does this series explain what we as Christians believe based on the Bible, but it also addresses other beliefs such as evolution.  The books do an amazing job of helping explain to our kids how to think through other worldviews by testing them against scripture.  This means that not only are our kids learning what is true, they are taught how to discern truth.
The first book Who Is God basically explains the character and attributes of God.  It also does an amazing job explaining sin, how it keeps us from God, and how we can know God and have relationship with Him.  Of course it also discusses the role of Jesus and how He died to save us from our sins.
I will say there is a lot of reading involved in this series, but the notebook activities would usually keep my kinesthetic learner engaged.  The days where there are bigger blocks of text to read (the stories) would usually have an accompanying coloring sheet.  Grasshopper would typically color these sheets while I read the text to him (he listens better when his body is moving).  There are also audio CDs for each text as an option if you would rather go that route.
The junior notebooking journals (ages 6-9) have great projects to help reinforce the lesson.  There are crosswords, fill in the blank, word finds to help reinforce new vocabulary.  They also include mini-books, Bible verse copy work.  Plus, they have pages for journaling things like praise reports, and where you've seen God working.  After each lesson you will also find a list of additional resources if you want to dig deeper.
The notebooking journals have lesson plans laid out for you, but they are flexible to allow you to work at your own pace.  You may find you need to break up the reading a little more than the suggested lesson plans but not always.  I figure if I follow the lesson plan this year (Who Am I book) it will take us about 25 weeks to complete if we do it twice a week.   Of course this assumes we don't dig deeper with other suggested resources.
Over all, I highly recommend the What We Believe Series by Apologia.  It is a perfect way to help teach our children not only what we believe, but why we believe what we believe.  In my opinion, this series is a must have for any christian homeschool.  In fact I think this would be a great thing for non-homeschool families as well.  Having a strong understanding in the christian worldview is crucial if you want your kids to be able to stand firm in their faith.